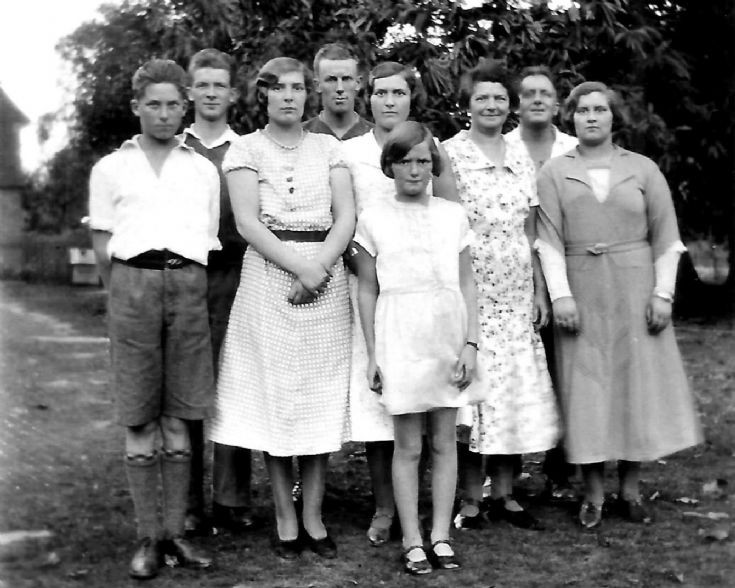 The Slaugham Archive
The Doggett family of Handcross
The Doggett family of the Hyde estate played a major role in the life of Handcross during the middle of the last century and made significant contributions to village sporting and social events over many years.
I think the photographer forgot to ask them to "Smile"!
The Large Version shows a close up with names attached but for the benefit of members of the public using the search function they are named here as follows.
Ken Doggett – Married Eileen Cox, cricketer, winner of the Carthorse Derby, footballer.. See
picture #1589
.
William Doggett Jnr – Basketmaker – See
picture #2021
Hepsy Doggett - Married Arthur Brown. Stoolball player, sandwich-maker for hundreds of events, tennis player. See
picture #1409
.
Arthur Brown – Married Hepsy Doggett. Golfer, cricketer. See
picture #2212
Dora Doggett – Married Edgar Burnett.
Constance Doggett, aka Connie – Married Peter Brown. Cyclist. See
picture #2166
.
Hephzibah Doggett (née Hill) – Married William Doggett. Actress. See
picture #2103
.
William Doggett Snr – Tuba player, cricketer, joint founding member and vice president of Handcross Social club. See
picture #2120
.
Lily Doggett – Married Len Snelling. Tennis player, stoolball player. See
picture #1109
.
View Large Version
Picture added on 05 July 2018 at 21:16
This picture is in the following groups
People