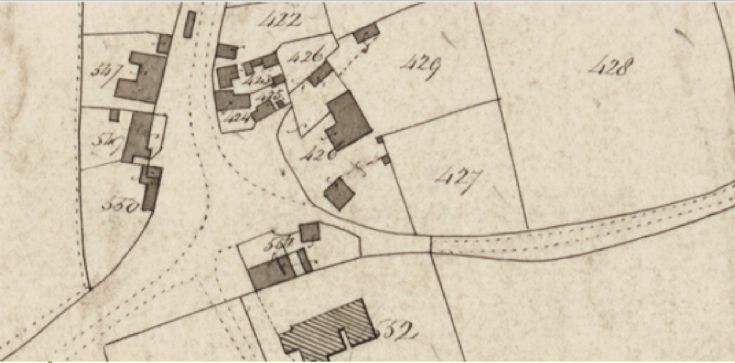 The Slaugham Archive
Bosworth and Rock Cottage, Slaugham (1 of 3)
The history of Bosworth, also known as Bosworths, and of Rock Cottage in Slaugham are intrinsically linked as, for most of the years since they were built, they have been located on the one plot of land legally and under the one owner. However in the latter part of the last century they became separate properties.
The 1842 Tithe map above shows the boundary enclosing both properties.
The Large Version shows a close up of the map.
Select Open Document to view five documents relating to both properties. First is a summary of the ownership, the leading occupier, and a short description of the plot according to the Tithe map.
Second is a transcription from Mrs Ena Tulley's memoires describing the years when her family, the Anscombes, occupied Bosworth.
Third is a description by Salzman of the architectural features of Bosworth, and fourth and fifth are copies of the main architectural features of each property according to the documents supplied when they became Grade II listed buildings in 1957 for Bosworth and 1983 for Rock Cottage.
View Large Version
Open Document
Picture added on 15 July 2018 at 20:45
This picture is in the following groups
People