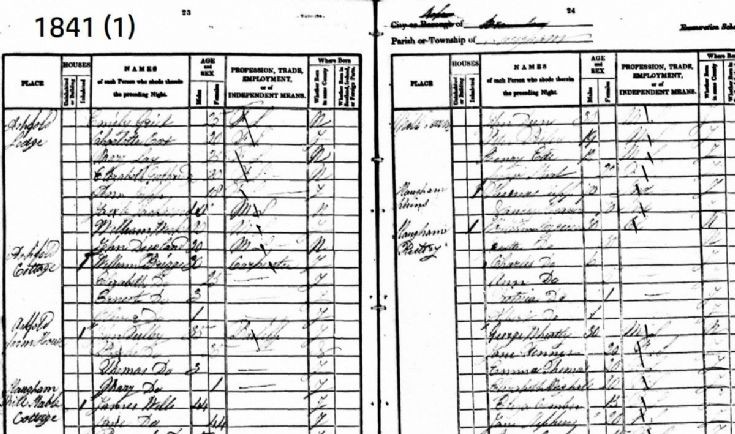 The Slaugham Archive
Bosworth and Rock Cottage, Slaugham (2 of 3)
The census returns are very useful when compiling family trees, but frustratingly inadequate when trying to determine precisely in which residence the residents live.
The Large Version shows some sort of summary of my findings on reviewing the returns from 1841 to 1911. At that time many of the houses and cottages had no names unlike the custom nowadays, and it is highly likely there are more residents of Bosworth and Rock Cottage I have not added to the list.
I am assuming that the cottage listed as Rock House in the earlier returns is the same as that known today as Rock Cottage. I understand that for a fairly short period of time during the early 1900s the cottage was known as Claire Cottage. Perhaps that name will be found when the 1921 census is released in January 2022!
I was advised that up to the end of the 1900s Rock Cottage was used more as a farm outbuilding than as a residence. I am wondering if that accounts for the fact that I cannot find any trace of the cottage on the census returns from 1861 to 1881 when James Anscombe was farming there.
Select Open Document to view various pages of the census returns from 1841 to 1861. I have enhanced the images as best as I can, but many are still difficult to read. See
picture #2333
to view the returns for 1871 to 1911.
View Large Version
Open Document
Picture added on 15 July 2018 at 20:50
This picture is in the following groups
People