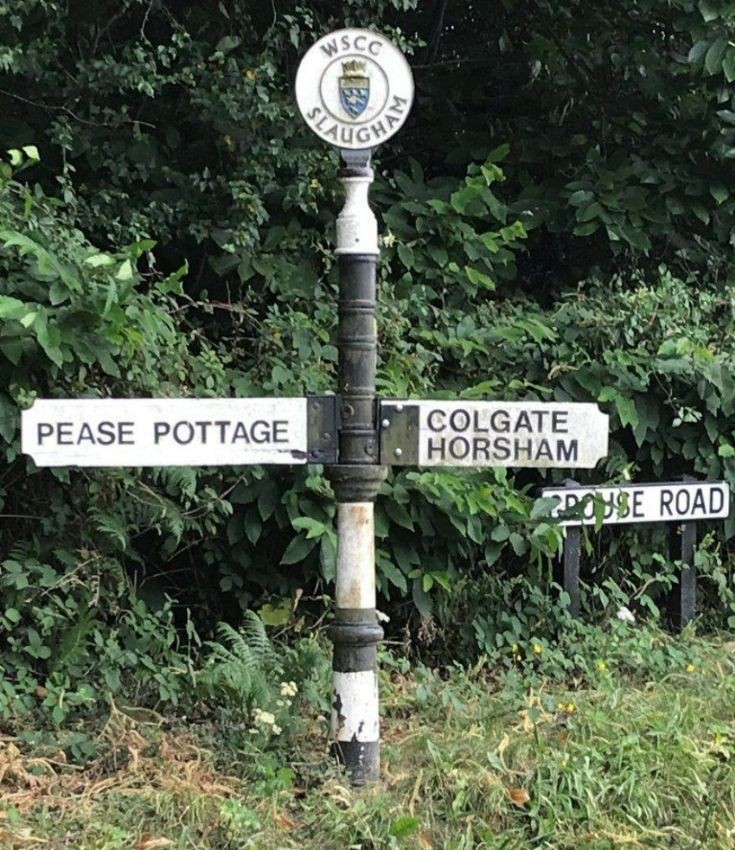 The Slaugham Archive
Historic Slaugham fingerpost in Colgate Parish
This fingerpost is in Colgate Parish. I have lived around here for forty seven years and driven, cycled and walked past this post without spotting it before now.
The round sign on the top is of cast iron construction and weathered better than the rest of it. It seems that the upright post dates back to Edwardian times, but the decorative finial is probably a fairly modern reproduction.
I am not aware of any similar fingerposts of this design in Slaugham Parish, and indeed the whole of the old East Sussex posts appear to be of wood.
I suspect this was erected by West Sussex County Council, prior to the West Sussex boundary change in 1974, and erroneously Slaugham was added instead of Colgate.
In my future travels in the original county of West Sussex I will be on the lookout for this bygone signage.
The Large Version shows the fingerpost from a different angle highlighting Grouse Road southwards to Bucks Head.
The fingerpost is located on the junction where Grouse Road from Bucks Head meets the Pease Pottage to Horsham road. The parish boundary is 125 yards distant, nearer Pease Pottage village, leaving the signpost firmly in Colgate Parish.
Select Open Document to view a 1958 map showing Grouse Road in the bottom left corner, and the aforementioned junction at the "Lodge", to the west of the well-marked parish boundary.
In recent years West Sussex County Council has abdicated its responsibility for maintaining old and historic fingerposts but it would be interesting to know who ordered and erected the post. Was it West Sussex County Council, Colgate Parish Council, or Slaugham Parish Council?
View Large Version
Open Document
Picture added on 22 July 2018 at 16:47