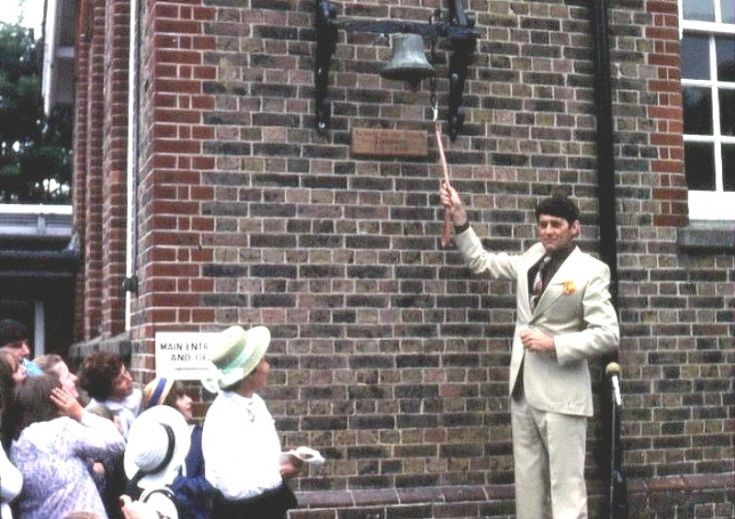 The Slaugham Archive
Handcross School centenary - Bell rings (2 of 13)
In year of 2018, Handcross School should have been celebrating its 140th anniversary, but I surmise that the year is not "round" enough to warrant celebrations similar to those organised for the centenary in 1978, and the 125th anniversary in 2003. But there is another possible reason. See below.
Here follows a series of photographs from 1978, starting with the ceremony of ringing the school bell in its new metal frame fixed to an exterior wall. The wooden plaque reads "Re-hung for the School's centenary".
Mr Barry Gooders, former headmaster 1969-1973, was invited to be the first to ring the bell.
Select Open Document to view two more pictures of Mr Gooders in action.
The Large Version shows the next person to ring the bell; a long-term supporter of the school, Win Greenfield.
For those of you who are not aware of the wanton scrapping of various historical items belonging to Handcross School, I suggest you read the comments at
picture #771
.
In the intervening four years there has been no news received as to the present whereabouts of the items which, according to the then Chair of the Governors, have been "lost". These include the school bell with its frame and plaque, another plaque listing all the headteachers from 1878, and a plaque dedicated to Mr Ralph Tulley for his unstinting support for the school over 50 years. However, it seems most likely that this list of "missing" items is not complete.
In January 2014 the school secretary wrote "I would like to reassure you that the bell has been taken down and is currently in storage until the building works have been finished and we can put it back up again".
The public affection for the village school was plain to see on that summer's day in 1978, but in the last four years much of that goodwill has been badly damaged.
With the head teacher since 2013 leaving at the end of the summer term 2018, and recent changes to the Board of Governors, it is hoped that under the new regime the traditional amicable connection between the school and its former pupils can be restored.
Meanwhile, if anyone has any information regarding the missing items, I would be pleased to hear from them, in confidence if desired.
View Large Version
Open Document
Picture added on 08 August 2018 at 10:26