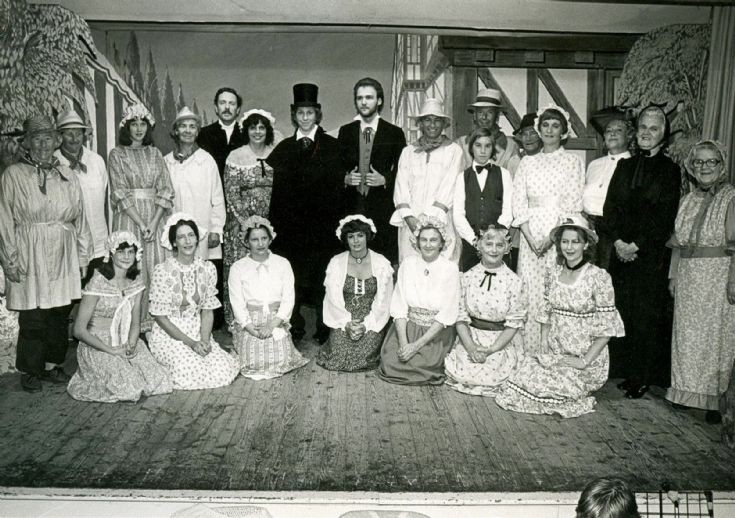 The Slaugham Archive
Handcross Amateur Operatic Society
The photograph features most of the cast of Handcross Amateur Operatic Society's production of The Sorcerer.
Other information and photographs of this production can be found at
picture #1022
and
picture #1023
.
Those appearing are: 1 Gladys Fraser, 2 Iris Arnold, 3 Clare Urquhart, 4 Emmeline Jenks, 5 Dick Leech, 6 Ruth Payne, 7 Nicolas Arnold, 8 Unknown, 9 Yvonne Sinclair, 10 Peter Hayes, 11 Maurice Abbott, 12 Hilda Abbott, 13 Audrey Russell, 14 Ann Burrough, 15 Grace Wales, 16 Norah Housby, 17 Virginia Thompson, 18 Penny Thompson, 19 Judy Lundgren, 20 Julia Sinclair, 21 Nora Ray, 22 Sue Aylmer, 23 Janet Angus.
The partial head of a member of the orchestra in the pit is included, but not named!
The Large version shows a numbered close up.
Select Open document to view a photograph probably taken by a member of the audience. Although lacking in clarity, it does show the cast's pleasure in receiving the applause.
View Large Version
Open Document
Picture added on 29 September 2018 at 13:22