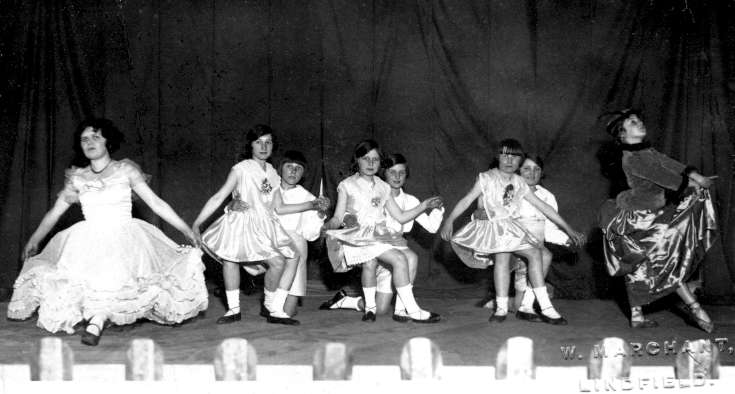 The Slaugham Archive
Dancing girls in Handcross
No details are attached to this photograph of a dance troupe comprising eight young ladies.
The venue appears to be the Parish Hall in Handcross and, if correct, I am particularly interested in the row of footlights arranged along the front of the stage. Before mains electricty became available to the village, Mr Archie Quick generated his own with a 7hp Petter generator. He supplied 110 volt electricity to the hall through a cable on poles across the fields from the rear of his garage in the High Street. See
picture #120
for further details.
Could it be that the inventive Mr Quick made and installed the footlights for the performance? That task would be well within his capabilities.
As embossed on the front of the picture, the photographer was William Marchant (1856-1965) who operated his business in Lindfield from about 1912 to 1936.
I am quite confident that the girl second from the left is my aunt, Betty Longhurst, who spent her married life of 53 years in Canada with her Canadian soldier husband.
Please can anyone supply more names or information?
View Large Version
Picture added on 20 October 2018 at 12:33