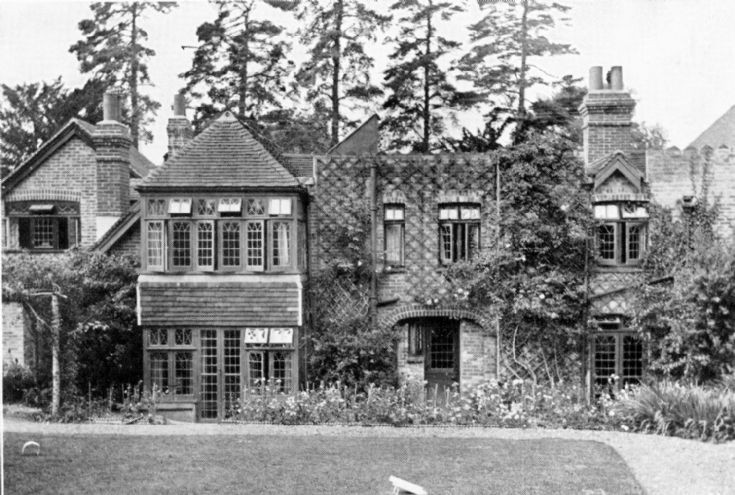 The Slaugham Archive
Green World, Hazeldean estate, Warninglid (1 of 2)
In 1937 a substantial residential property by the name of Green World in Warninglid came up for sale by auction in London, but I have no record of the winning bid, or indeed if a sale was concluded. The brochure was an internet purchase but arrived with no plan or map, and a search in the archives and online failed to identify its location.
The rear of the house is pictured above. Much of the wall was covered in an enormous trellis!
However, there were clues in the extensive brochure.
The house "is approached by a carriage sweep". Page 2 in the brochure.
The plot "excludes a strip along the frontage about 20ft deep" being purchased "for road widening". Page 5.
The purchaser will agree to a covenant that "he will not use the property for carrying on the business of a Private Hotel Guest House or Tea House". Page 6.
It seems to be quite clear that the vendor must have been the owner of a small estate called Hazeldean on the east side of the A23, and that in 1937 the main house on the estate was trading as The Old Haslings Hotel. For more history of the hotel see
picture #1101
.
The Large Version shows an extract from a map of 1875, which marks with dashes a "carriage sweep" both leaving and joining the main road, bearing in mind that in 1875 all vehicles would have been horse-drawn carriages.
The covenant would have been introduced to prevent the new owner of Green World from setting up a hotel in its six bedrooms in competition with The Old Haslings Hotel.
I note that on page 5 of the brochure the garage was located "under the same roof as the house", and I think it highly likely that Green World was formerly the estate stables and coach house, probably with accommodation for the groom or other servants. The brochure indicates on page 4 that this work was carried out three years earlier in 1934.
Select Open Document to view an extract of a map from 1895 where the carriage sweep is clearly shown. Two large buildings are shown with the mystery house, Green World, to the north and the main estate house, now Aniska Lodge nursing home, to the south.
There is a covered reservoir marked in the grounds of the Hazeldean estate, I wonder if it is still there.
Also included are the first five pages of the brochure; the remaining five can be viewed on
picture #2391
.
View Large Version
Open Document
Picture added on 31 October 2018 at 15:33