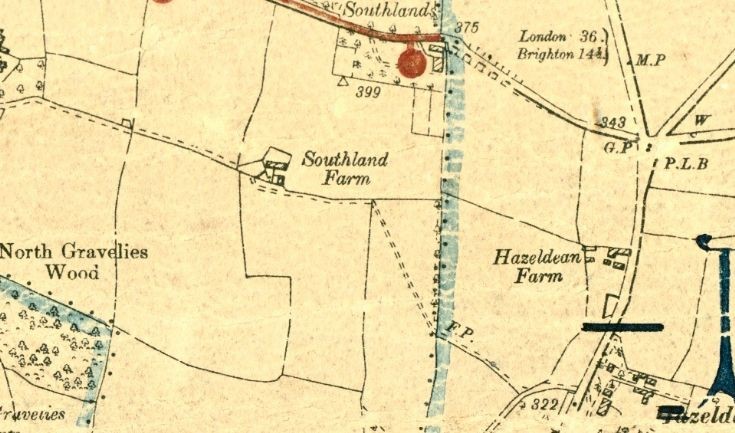 The Slaugham Archive
Warninglid windmill
In September 2018 I received a request from Justin Brice of the Sussex Mills Group who was trying to find the site of the Warninglid windmill which is described as being sited "on the top of the hill, west of the Brighton Road".
He advises that Rev Budgen in his 'History of Slaugham' speaks of "a lane from Warninglid to the windmill on the east side of Bartlee's Farm, on the eastern edge of the parish. There's a hill here and presumably is the site". He adds "So far I've not been able to trace Bartlee's Farm".
There is an important section in Rev. Dengate's book "Slaugham" which records on page 87:
"1653 Denis Bartlee has mortgaged all his customary lands in (Parish of) Slaugham, called Southlands to the use of Edmund Challoner, gent."
A short distance to the south-west of Southlands was Southland Farm. I think it probable that the phrase "Bartlee's Farm" is not the name of the farm, but simply means a farm owned or leased by Mr Bartlee.
An extract of a map from 1874 is shown above. The blue line marks the parish boundary.
I have found 300 feet contour lines encircling this part of the map, but there are no such lines for 400 feet. The triangulation station showing a height of 399 feet is located nearby; the perfect position for a windmill! The hill is also close to, and to the west of, the A23 highway.
Southlands still exists, but Southland Farm has all but disappeared. On the 1842 Tithe Map, Southlands was described as a "cottage and garden", and Southland Farm comprised "buildings and yard". Immediately to the east of Southlands is the parish boundary, and therefore perhaps the windmill was located to the east of Southland Farm.
The Tithe Map for Cuckfield Rural Parish to the east does have three fields entitled "Windmill Field" but none of these was located in the vicinity of Southlands.
There is no mention of a windmill on the 1842 Tithe Map, but all the evidence points to it being located in the same field as the triangulation station, to the west of the farm.
The map shows Five Cross Ways on the right where MP denotes Mile Post, GP is Guide Post (Signpost), and PLB is Pillar Letter Box.
Picture added on 31 October 2018 at 20:05