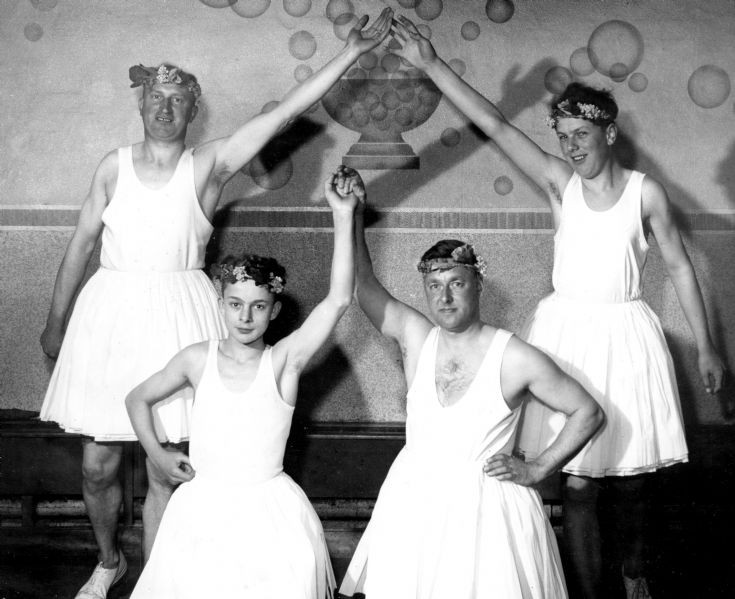 The Slaugham Archive
Handcross Scouts' Corps de Ballet (2 of 2)
Further to
picture #2405
, the picture shows another scene performed by the Handcross Senior Scouts.
Back row: Cubmaster Sid Sargent and Tom Chamberlain.
Front Row: Richard Hayler and Scoutmaster Eric Parker.
The Large Version shows a close up.
Select Open Document to view another photograph showing, albeit with some important body parts missing, Barry Ray, Gordon Nye, Tom Chamberlain, Chris Johnson, Mick Pateman, and Rodney Pattison.
The performance at Handcross Parish Hall went off very well with just one small hiccup when one of the performers landed very heavily and the needle on the record jumped forward about 15 seconds. Miraculously, we somehow got around the problem and completed the dance almost at the same time as the music!
The climax to our performance was our interpretation of a dance to Orpheus in the Underworld Overture by Offenbach. The piece finishes quite unexpectedly with the Can-Can, which is then repeated for a second time a few moments later. It was decided that we would perform the Can-Can quite modestly on the first occasion with knees up only, but on the final occasion we would go for the "Full Monty" and raise our legs as high as possible. This created such howls of laughter that we could barely hear the music.
I always thought the audience would laugh, but not so uproariously as they did, especially so at the performance in Haywards Heath. I have oft-wondered why that should be, and what they could see which we couldn't!
View Large Version
Open Document
Picture added on 03 December 2018 at 17:45
Comments: