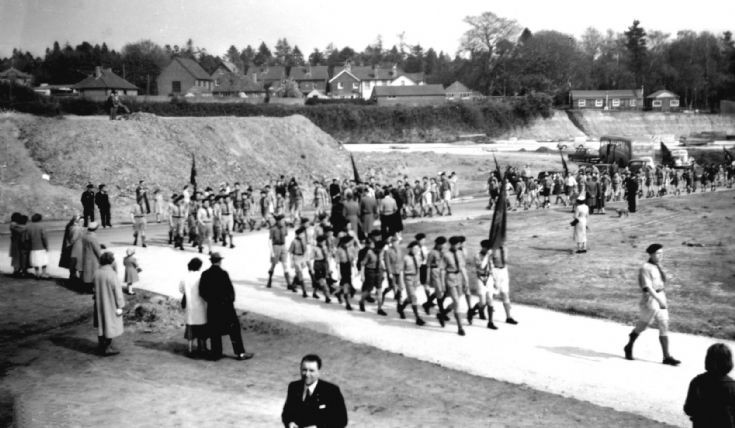 The Slaugham Archive
St George's Day Parade-1st Slaugham Troop (1 of 3)
It is traditional that the scouting movement celebrates St George's Day each year and the local Haywards Heath District tend to choose a different location each year. In 1959 it was the turn of the 1st Slaugham Scouts, based in Handcross, to play host.
Usually the scouts muster in, say, a recreation ground and then proceed to the local church with a short march. However, the 1st Slaugham troop were always more ambitious than other troops and the decision was made to march from Handcross to Slaugham church through the Slaugham Park drive led by Haywards Heath Town Prize Band.
It was convenient that the new bypass had not been fully completed and the site provided an ideal assembly point for the hundreds of scouts, cubs, and guides.
It is hard to imagine now that the main A23 London to Brighton then ran along the top of the escarpment in the distance, in the Brighton Road. Buildings situated in the Brighton Road included the old Southdown bus garage (
picture #1389
) next to the bungalow on the left, with Gable House just beyond. On the right, the long wooden building was built before WWII for the use of the engineer working on the new bypass, but from shortly after the war it was used as a scout hut (
picture #1545
).
In the foreground is Roger Ray who, as Chairman of the local scout troop, was one of the party taking the salute and therefore had to make a speedy exit to arrive at Slaugham before the procession arrived!
The Large Version shows local scoutmaster, Eric Parker, leading the procession after the band. He is followed by the Queen's Colour, carried by a senior scout from Balcombe, and then St George's Flag carried by a senior scout from the Slaugham troop.
Select Open Document to view two more pictures. The first shows the scene before the procession moved off towards Slaugham. The location also provided excellent parking facilities!
The second photograph shows the 1st Slaugham cub pack with cubmaster, Sid Sargent, in the foreground.
View Large Version
Open Document
Picture added on 07 December 2018 at 16:17
Comments: