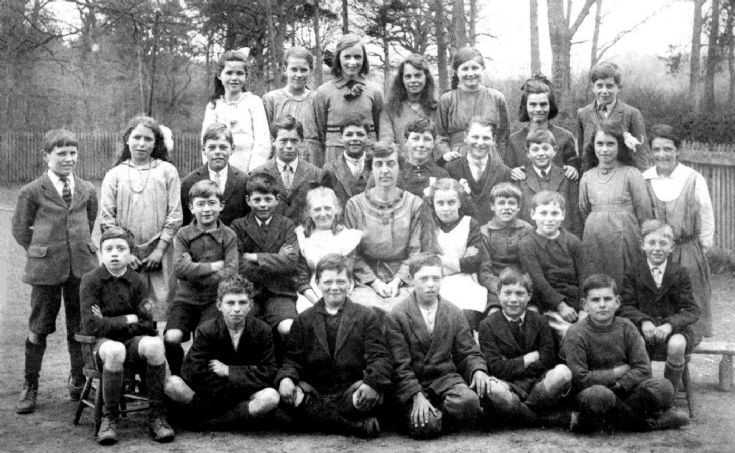 The Slaugham Archive
Warninglid School c. 1921
The photograph was taken at Warninglid School in 1921 (+/- I year), with the headteacher, Miss Frances Barbara Mitchell (1890-1978), in the centre.
Names have been given for almost all the pupils but only the initial letter of the first name has been supplied.
Where possible, I have located the first names and where they lived in Warninglid.
Back row: 1 Olive Mansbridge, Slate House Cottage, 2 I. Allcorn, 3 R. Wilson, 4 Ruby Camfield, Warninglid village, 5 V. Dench, 6 D. Pullinger, 7 W. Morley.
Second row: 1 G. Evans, 2 Mildred Darcy, Colwood Cottage, 3 E. Warren, 4 Herbert Thisleton, Fridays Cottage, 5 C Dudley, 6 Frankie Boniface, Betts Folly, 7 R. Longhurst, 8 A. Menham, 9 W. Boniface, 10 M. Chatfield.
Third row: 1 H. Morley, 2 Unknown, 3 J. Mepham, 4 D. Tyril, 5 Miss Frances Mitchell (Headteacher), School House, 6 Unknown, 7 – Partridge, 8 E. Pullinger, 9 J, Ellis.
Front row: 1 J. Gasson, 2 G. Bromwell, 3 Harry Mansbridge, Slate House Cottage, 4 F. Canfield, 5 F. C. Boniface.
The Large Version shows a close up.
View Large Version
Picture added on 17 December 2018 at 15:48