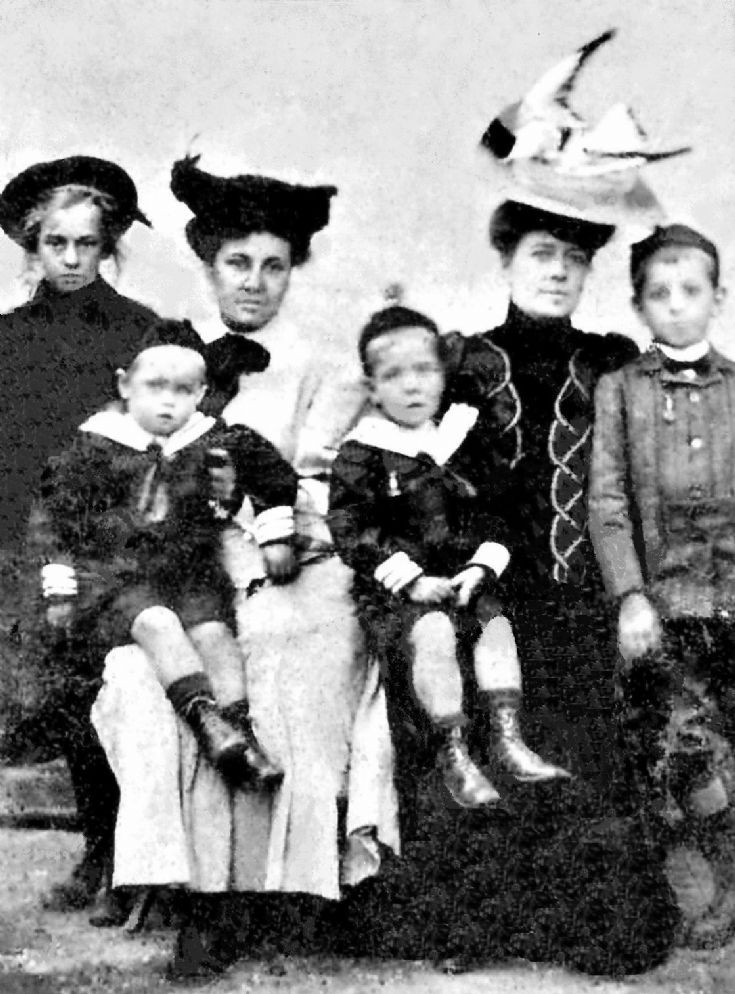 The Slaugham Archive
Saillard family at Pease Pottage (2 of 2)
Here is another photograph showing many of the Saillard family. On the right wearing an absolutely fabulous hat is Mrs Emily Saillard (1844-1924) whose husband, Philip, operated the ostrich feather business and who built Buchan Hill in 1882.
The others are not identified but the other lady is probably Mrs Williamena Saillard (1866-1942), who married the son, also named Philip, of the above-named.
Williamena and Philip's children are, from the left, Philomena Saillard (1896-1980), George Saillard (1903-1979), Philip Saillard (1898-1917 WWI), and André Saillard (1902-1984).
Strange fact! In the 1911 census I found both Phillip and George living in a boarding school in Brighton, both were bracketed together as "visitors". Perhaps implying they were there temporary. The school was Cottesmore School, which in 1946 moved from Brighton to Buchan Hill, which was built by their grandfather. Surely not a coincidence, but I cannot offer a convincing explanation!
The Large Version shows a close up.
Select Open Document to view a photograph of Louise, perhaps taken in a photographer's studio against a back-drop, but I am not sure. The reverse confirms her name, but I am puzzled by the French word "chasseur"; which in English means a hunter (m)! It confirms that Louise was married to Georges Godelert, and was mother to Georgette, Marthe, and Yvonne.
View Large Version
Open Document
Picture added on 29 December 2018 at 10:38