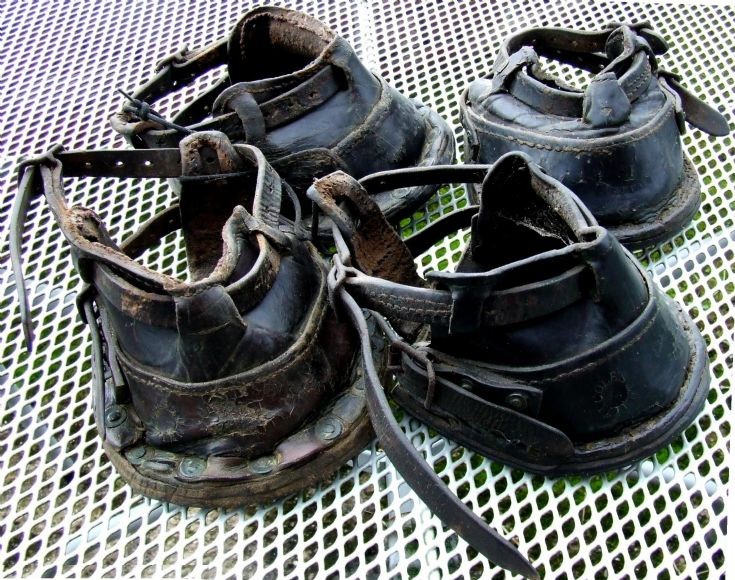 The Slaugham Archive
West Park Golf Club, Handcross
The leather boots worn over the hooves for a horse when pulling a lawn mower have been in the family for many years, but there is no evidence that they were used at the West Park Golf Club in Handcross. They are surprisingly very heavy and are stamped "COLE'S PATENT" and "PATTISSON 1st QUALITY".
The Large Version shows a short history of the club by Roger Ray in 1987 who makes reference to similar boots.
The club closed at the start of the Second World War at which time Miss K.M. Smith was secretary. The SSS (Standard Scratch Score) was 70, and the membership was 105.
Visitor's fees were 2/6 per day and 3/6 for weekends and bank holidays. Weekly fees were 10/- and monthly 25/-.
In 2016 on an internet auction site I came upon a golf wood for sale which had been owned by Frank Packham, the professional at the club.
The club was described by the American seller as follows:
"Somewhat rare 2-tone Bulldog Wood owned and used by the Golf Professional at West Park Golf Club, Handcross, Sussex, England in 1923, with his name stamped on the top: F. Packham. The Golf Club was founded in 1897 and closed in 1940. This wood shafted, large two tone pretty face Bulldog trouble wood, has a gutta percha? insert, held tight by 8 wooden dowels. This professional's own club with lead back weight and extremely curved, full brass sole, with quite a bit of loft to the face. The shaft appears to be original with no cracks or chips, missing its shaft/head wrap, with original grip, and measures 41½ inches."
The bidding had reached $120.00 and I resisted the temptation to bid!
Click on Open Document to view a map supplied by the American seller followed by seven pictures of the wood with "F. Packham" inscribed on the head.
View Large Version
Open Document
Picture added on 12 January 2019 at 15:15
Comments: