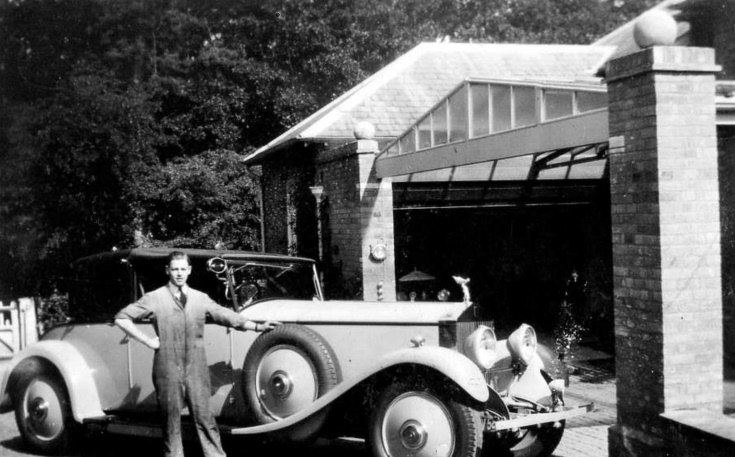 The Slaugham Archive
Wiliam "Pat" Tester and Rolls Royce (1 of 2)
Here follows two pages of photographs featuring William Aubrey "Pat" Tester (1906-1981) who was born to George Tester, farm bailiff of Handcross Park, and his wife, Margaret (née Lee). Pat was brought up at East Lodge, Handcross Park with his sisters, Mabel who married Henry "Harry" Field, Jeannie and Winifred, and brother, George. (See
picture #2362
)
Pat was involved in many activities in the village, but these two pages refer solely to his motoring activities. For much of his working life he acted as chauffeur for the wealthy land-owning families and this involved driving splendid motor cars to various places in England, to the grouse moors of Scotland, and the luxury resorts in France.
The above picture shows Pat with a Rolls Royce wearing his garage attire, being overalls, collar and tie!
The Large Version shows a close up.
Select Open Document to view important certificates to impress future clients with his newly acquired skills required to drive and maintain a recent addition to the British roads, the motor car.
View Large Version
Open Document
Picture added on 20 February 2019 at 19:49
This picture is in the following groups
People