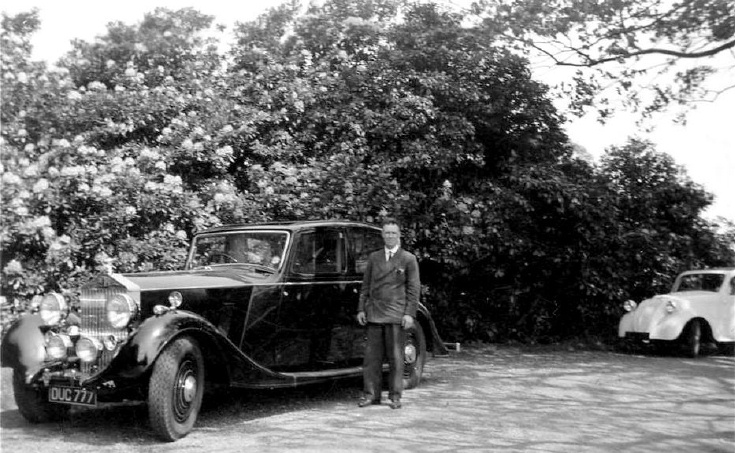 The Slaugham Archive
William "Pat" Tester and Rolls Royce (2 of 2)
Further to
picture #2446
, here is another picture of a more sedate Rolls Royce but this time the unnamed owner decided to appear in the photograph, much to the disappointment of the chauffeur/mechanic, William "Pat" Tester!
The Large Version shows a close up.
Select Open Document to view three pictures. The first shows Pat with his 1927 Levis, Model M motorcycle.
The second picture refers to the Document in
picture #2446
showed a certificate issued by the British School of Motoring which was awarded after Pat had driven a Bean motor car. It is not known which model he drove at the time, but a well-known Daily Telegraph motoring correspondent suggested it could have been the top-of-the-range model pictured here! I think it would have been a most unsuitable vehicle to use in the English climate with it sporting a hood with seemingly little visible support!
The third picture shows a business card for a taxi service based at Roberts House in Handcross High Street; the proprietors being Pat Tester and Eric Parker. Eric and Ethel Parker lived in Roberts House from 1946 to 1949 when they moved to 3, Truggers in the Horsham Road. At the time, Pat and his wife, Kathleen, lived in 4, Voices Cottages in Horsham Road.
View Large Version
Open Document
Picture added on 20 February 2019 at 19:54
This picture is in the following groups
People