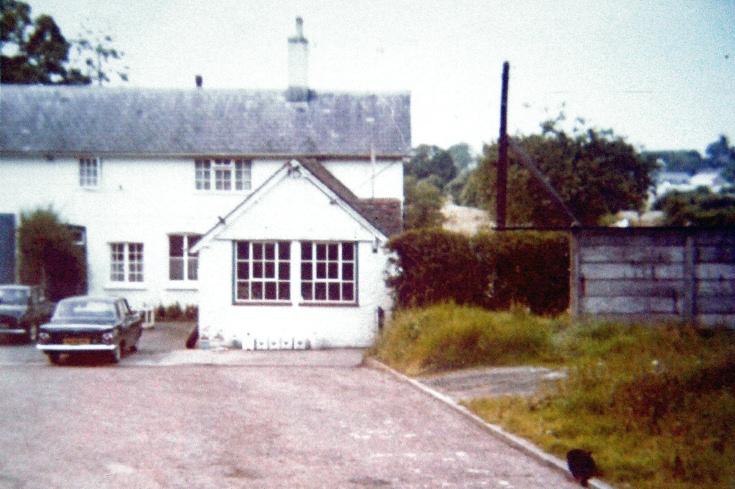 The Slaugham Archive
Broadfield Cottage and Broadfield House
The photograph is of Broadfield Cottage, then on the Broadfield estate but later pulled down to provide, along with acres of farm and park land, space for Broadfield, the new neighbourhood of Crawley.
My parents, Jack and Vera Cook, lived in the cottage from 1948 to 1979. My Dad was caretaker and head gardener for the Broadfield House and estate. I lived there with my two sisters and brother, bur because I was not born until after 1950, I missed the visit to Broadfield by Princess Elizabeth, just two years before she became Queen Elizabeth II. See
picture #1775
.
The main car is my Dad's Ford Consul Cortina, later to be known as the Mark 1 Cortina when other Cortina marks were produced.
On the right is our cat, Tibby.
My Dad was made redundant when the New Town Commission, which occupied Broadfield House, closed down.
The annex on the right was used as the drivers' offices. The drivers were for the office staff, i.e. the architects. The cars were parked in the garages which cannot be seen in the photograph; far left by the woods. The cars were never locked and, as children, we played in them!
My dad's brother, Ted Cook, was a driver and used to be in that office. In the evenings and at weekends I was allowed to use it to do my homework; nice and quiet.
To the right of the office were our garden, orchard and fields reaching out to Broadfield Farm in the distance.
The Large Version shows a view of Broadfield House in about 1970.
Select Open Document to view an extract of a map from 1874 showing Broadfield House overlooking the lake, Broadfield Cottage (No. 38), and Broadfield Farm (No. 37).
View Large Version
Open Document
Picture added on 25 February 2019 at 20:03
Comments: