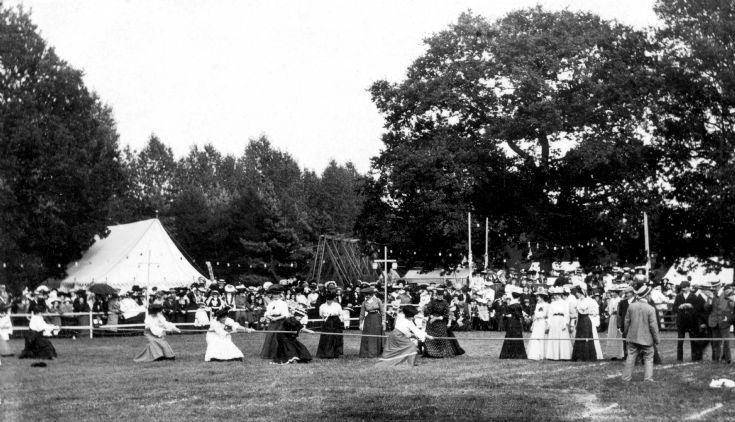 The Slaugham Archive
Flower Show in Red Lion Field, Handcross (1 of 14)
The flower show was organised by the Slaugham and Staplefield Horticultural Society and the photograph was taken in the Red Lion field, where the Society's event usually took place. The scale of the events was huge by usual village standards and comprised a flower show, sports events, and a funfair.
This is the first in a series of 15 pictures relating to fetes and flower shows held in Handcross during the last century.
The above photograph shows the ladies Tug of War competition with teams of six. I do not know how much the prize money was around the turn of the century, but in 1952 the winning team received 12/- and the runners up 6/-.
I am amazed by the enormous length of rope supplied for the event. The photographer, standing some way from the event, could only capture one team, leaving the referee squinting into the distance trying to pick out the opposition!
The Large Version shows a close up. The fashions on display here make Ladies Day at Ascot look quite second-rate!
Mrs Ena Tulley, wife of Ralph Tulley from the Post Office, wrote about the annual event in her memoirs and this can be read by selecting Open Document.
View Large Version
Open Document
Picture added on 02 March 2019 at 20:24