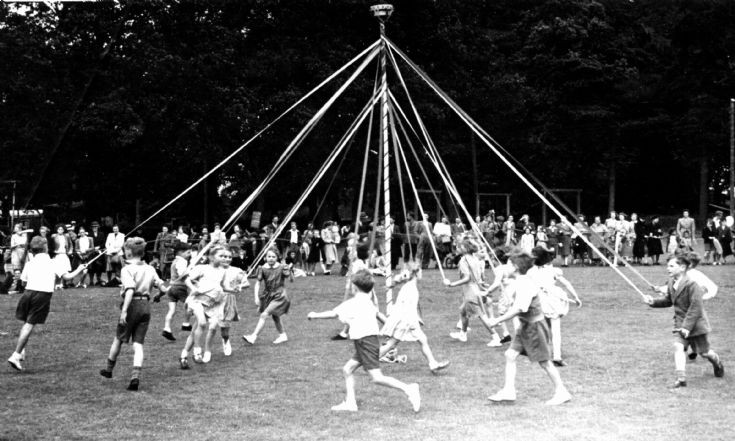 The Slaugham Archive
Flower Show in Recreation Ground (5 of 14)
It's post-war and the venue for Handcross fetes and flower shows has moved from the Red Lion field to the Recreation Ground and the Parish Hall.
In the background can be seen the three oak frames for the swings, and therefore the camera is facing Gravelpit Corner and the start of Balcombe Lane.
There is a tremendous amount of effort being put in by the maypole dancers and their speed is not being retarded by the recognised requirement to weave in and out of the oncoming dancers!
The girls' circumnavigation of the pole is a lot quicker than that of the boys and I fear they will soon run out of pole!
The Large Version shows a close up. The date has been estimated, but please can anyone identify any of the performers?
Select Open Document to view the catalogue and programme for the 1934 Flower Show. Also included as a supplement in the programme is a copy of the Balance Sheet and a List of Subscriptions and Prize Money for the previous year, 1933.
View Large Version
Open Document
Picture added on 06 March 2019 at 17:05