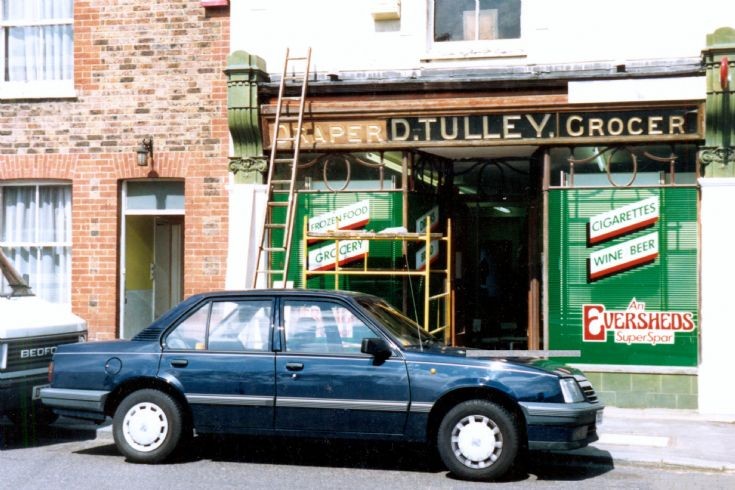 The Slaugham Archive
Eversheds Post Office Stores, Handcross (3 of 5)
I presume thttp://www.slaughamarchives.org/picture/number2054.asphe Handcross Post Office Stores was changing its brand name and the shopfitters were changing the signage and promotional placards.
I cannot recall the trading name which has just been removed but it was exciting to see, if only for a few hours, a name from many decades earlier. See
picture #116
and
picture #1284
.
The car is a Vauxhall Cavalier Mark II (1981-1988) and the Bedford Van has a "D" plate (1986-1987). The year of the photograph has been estimated at 1990.
Ralph and Harold Tulley retired in 1964 and they were replaced by Alan and Joan Greenfield who retired in about 1982. (See
picture #2076
)
Following the Greenfields were Brian and Sharon McGill who ran it for about 5 years until 1987. They were replaced by Vince and Julie Bohannon (née Hextall).
The Large Version shows a label for Parcel Post issued at Handcross Post Office in 1913. The definitive postage stamp shows King George V who reigned from 1910 to 1936.
Unsurprisingly, I know of only one poem which makes reference to Tulleys and the Red Lion in Handcross. It's called "An airman's dream of home" and was composed by my father, Roger Ray, in 1940 and sent to his new wife, Nora Longhurst, in Slaugham. He was based initially at Manston airport in Kent and was granted two days compassionate leave to get married. By way of some sort of compensation, he was soon to be provided with a free luxury tour of North Africa, Sicily and Italy at HM Government's expense!
Select Open Document to read the poem typed on an ancient typewriter.
View Large Version
Open Document
Picture added on 09 April 2019 at 10:22