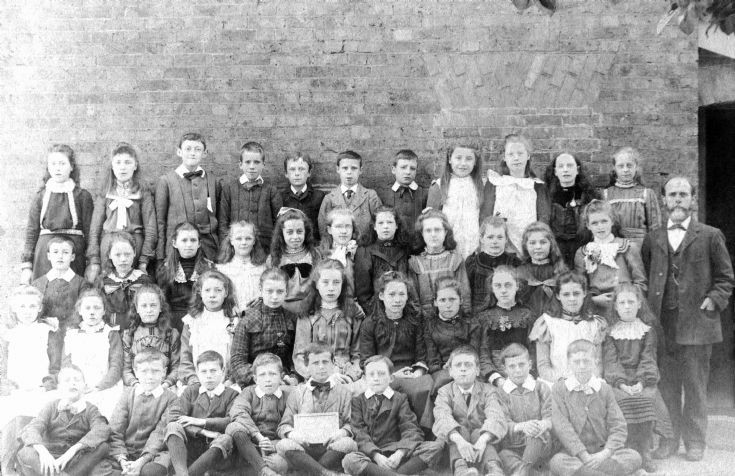 The Slaugham Archive
Crawley School 1901
It seems that some children from the former, and larger, Slaugham Parish may have attended this school in Crawley in the days when it was a modest-sized market town. In this instance, one of the pupils above was living with her family in Colgate. She was 11-year-old Mabel Tester (1890-1984) who went on to marry Henry Field and together run the butcher's shop opposite the Red Lion in Handcross for many years.
The photograph is fixed to a piece of card, thus given it a wide border and was probably on permanent display in a frame. As such, it is badly faded and the above picture is the best-possible renovated version.
The illegible writing on the slate held by Master Morgan in the front row probably has the year and the form number.
Happily, names have been added to the reverse.
Back row: 1 M. Bowers, 2 E. Weller, 3 C Gatland, 4 – Leadbetter, 5 B. Nash, 6 H. Mitchell, 7 P. Knight, 8 F. Warren, 9 – Slater, 10 E. Hoare, 11 E. Jeffries.
Second row: 1 Will Peskett, 2 D. Clifton, 3 D. Denman, 4 M. Thorns, 5 M. Peskett, 6 R. Marshall, 7 E. Mitchell, 8 E. Pattenden, 9 Mabel Tester, 10 H. Gibbs, 11, Miss Edith Tweddill (Teaching assistant), 12 Mr John Tweddill (Headmaster).
Third row: 1 N. Cheal, 2 O. Parsons, 3 – Neeves, 4 M. Brunger, 5 M. Steer. 6 A. Lee, 7 D. Mills, 8 A. Dowline, 9 A. Thornton, 10 H. Charman, 11 M. Peirce.
Front row: 1 u/k, 2 A. Lush, 3 C. Rice, 4 – Weller, 5 – Morgan, 6 – Horn, 7 – Blundell, 8 – Thompsett, 9 G. Dench.
The Large Version shows a close up.
The 1911 Census Return finds the headmaster, Mr John Henry Tweddill (1855-1927), living at 12 Perryfield Road, Crawley, with his wife, Elizabeth, and their daughter, Edith Tweddill.
Select Open Document to view the Census Return.
View Large Version
Open Document
Picture added on 30 April 2019 at 11:10