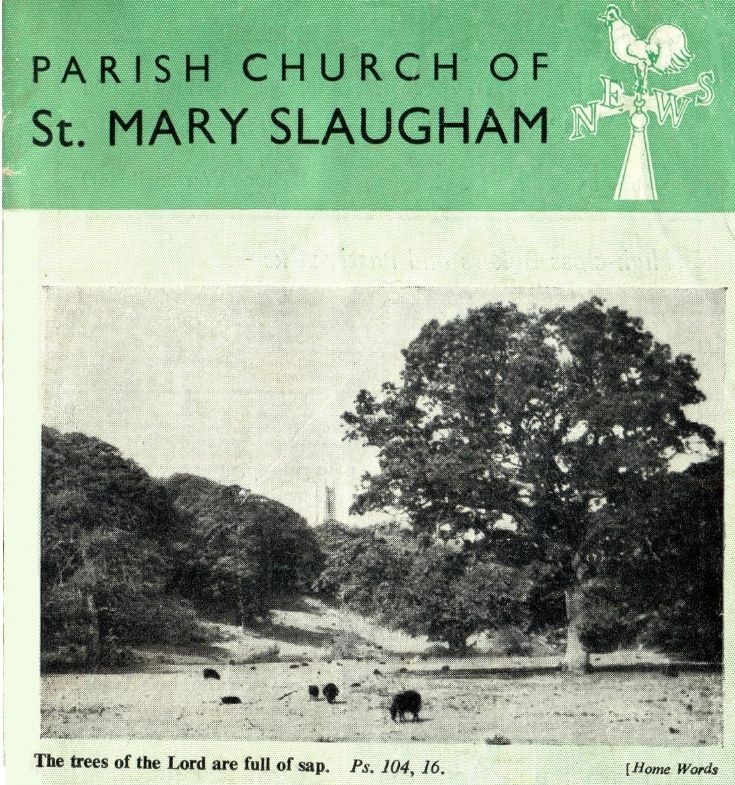 The Slaugham Archive
Slaugham Parish magazine from 1953
Attached is the monthly Slaugham Parish magazine for September 1953. At that time it cost 3d, significantly more than the present price; it is now freely distributed throughout the parish as it has been for several decades.
Rev. Edward Bradbrooke submitted his contribution whilst on holiday and announced changes to the regular services at the churches in the parish. At that time each of the four villages had an active church.
The Women's Institutes of both Handcross and Staplefield were invited to hold a joint meeting at the home of Mrs Messel at Holmsted Manor. Col. Leonard Messel and his wife had moved there following the fire at Nymans in 1947. See
picture #942
.
The advertisements will bring back memories to those of us of a certain age.
Les Moore at Devonshire Dairies in the High Street, Handcross was promoting T.T. Milk. At that time dairy herds suffered from tuberculosis and it was common to see herds described as "TB Tested" to reassure the public. Tests are still ongoing today and infected cattle are promptly destroyed. However the reassuring message is not now used!
The Bric-a-Brac shop was in the row of three shops to the north of the Zoar Baptist Church.
Running the newsagent's shop in its present-day location were the Misses Gladys and Elsie Ives. The other newsagent's shop, opposite the Red Lion, was run by Mr Walter Shearlock.
It was pleasing to see that Carters Coaches from Plummers Plain were installed with both radio and heating!
Why did Don and Gladys Fraser retain this particular edition of the magazine? Methinks it was something to do with the baptism of their daughter, Beverley, which was included in the public announcements!
Select Open Document to view the complete magazine.
Open Document
Picture added on 22 May 2019 at 20:58