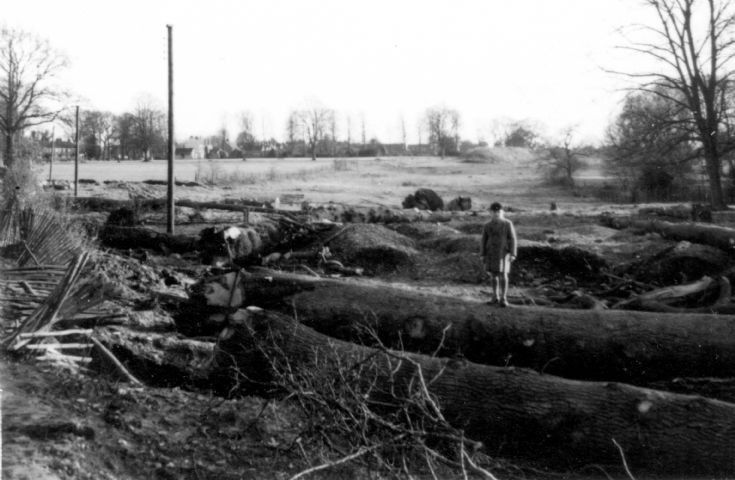 The Slaugham Archive
Construction of Handcross bypass
The photograph is only 3"x3" with no details attached. I think that is my brother, Laurence, standing on a felled tree. I have estimated the year at 1958.
I am assuming that the work in progress was the construction of a new road from outside Handcross School so that the A23 main road goes to the west of the Recreation Ground to pass under the newly-built bridge, thereby creating a bypass to avoid the High Street. See
picture #2377
.
On the left are the Police House and Council Cottages then situated on the A23 London to Brighton road. To the right of the nearest pole is the old sports pavilion with the Fountain Inn beyond.
The three or four trees in the middle of the Recreation Ground are what were left of a hedge which became redundant when Combers Meadow, nearest the camera, was incorporated into the main recreational area. The hedge was virtually in line with the Gravelpit Corner junction.
Directly beyond my brother is one of the three "lumps" of top soil excavated pre-war when work on the Handcross bypass was first started, but then abandoned in 1939 when war was declared. See
picture #1548
.
To bring matters up to date the land between the camera and the "lump" is currently the partially-built Hoadlands housing estate comprising over 100 houses.
The Large Version shows a close up.
View Large Version
Picture added on 02 June 2019 at 09:41