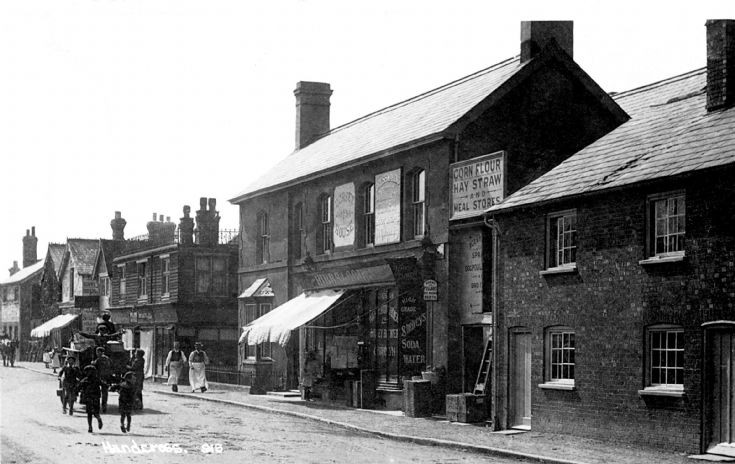 The Slaugham Archive
Hibbs & Sons, Handcross
Dorset House, in the centre of this picture, is home to Hibbs & Sons which, according to the sign between the first floor windows, offers "Dressmaking, Millinery, Mantle, Boot & Shoe, Warehouse". Research tells me that a mantle was a loose-fitting, outer garment for women, somewhat similar to a cape. A small sign informs us that they are agents for Pullars Dyeworks of Perth, Britain's first dry cleaner. I presume that the business carried on between the two buildings was also operated by the Hibbs family. The sign says "Corn Flour, Hay, Straw, and Meal Stores". The sign underneath says "Agents for Spratts. Dog, Poultry, Game, and Bird Foods." A ladder is available to access the upstairs door; hardly likely to please today's health and safety inspectorate.
The cottages on the right were demolished to make way for the present newsagents shop as can be seen in
picture #353
. The whole comprised a terraced row of four cottages, similar in style to Batchelors Buildings, and I am assuming that the more southerly pair were demolished to build the newsagents shop, and the other two were converted to a shop occupied initially by Mr A. Quick.
The Large Version shows a close-up of the horse and cart being chased by six excitable boys, one of whom has climbed on the cart and triumphantly holds his hands aloft.
View Large Version
Picture added on 19 July 2012 at 19:19
Comments: