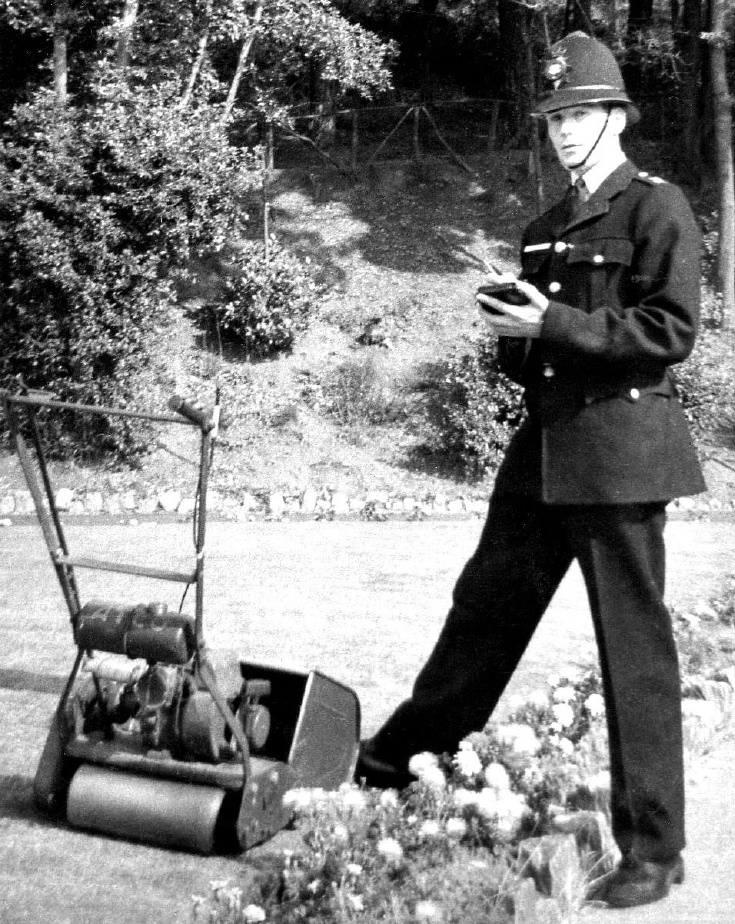 The Slaugham Archive
PC David Pearce
PC Siggs took over from Steve Message in 1953 and on retirement moved to Newhaven. He was followed by PC Bernie Hall who moved to Chichester in 1969 and subsequently rose to the rank of Inspector.
PC John Young occupied the position briefly from 1969 to 1970 when he resigned.
PC David Pearce took over in 1971 and served for 25 years until he retired in 1996. The picture shows him booking a speeding lawnmower at Training School in 1964. The Large Version shows David in the 1970s with fashionable chequered "go-faster" tape on his cap.
He was the last resident police officer in the parish; the duties now being carried out by Community Police Support Officers.
All those mentioned were members of East Sussex Constabulary, although the name was
changed to East Sussex Police by Chief Constable George Terry in the 1960s to give the force a modern image. In 1968 it was amalgamated with West Sussex and the various Borough forces to become Sussex Police.
We are indebted to David Pearce who provided the photographs and information for this section on the Handcross police.
View Large Version
Picture added on 30 July 2012 at 12:02