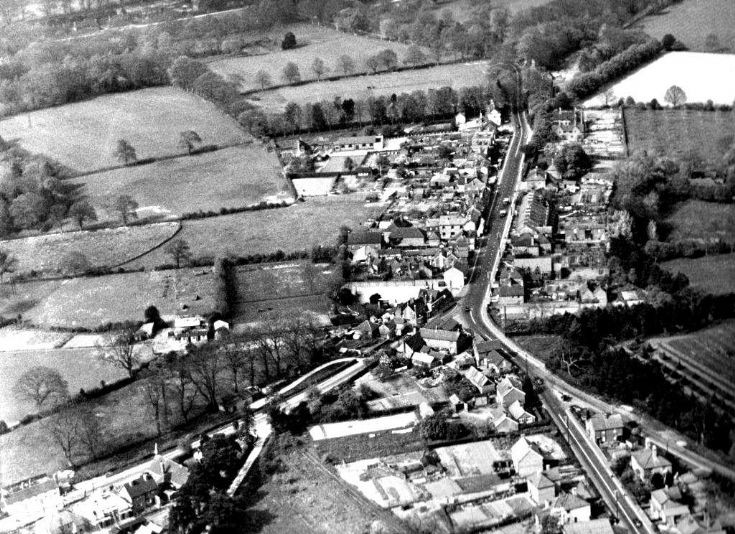 The Slaugham Archive
Aerial photo Handcross 1937
It is a sunny day in Handcross with the start of WWII just a couple of years away and the small amount of traffic having to negotiate three lanes in the High Street. Within weeks the work would begin on the by-pass by excavating the two cuttings; one to the north of the present-day bridge and one to the south. That initial task was completed before the war but then work was immediately suspended.
Buildings of note are the parish hall at the top centre, and All Saints church at lower left with the pointed bell tower clearly visible in the sunshine.
Attached is the same photograph showing the route of today's by-pass, the service station, the site of Truggers which was completed immediately after the war, and the more recent housing estates of Windmill Platt and Smugglers End. Victims of the excavations were the top end of the Slaugham Park drive which can be seen joining the Horsham Road by the church, the small buildings immediately opposite the drive, and the significant farm buildings some 100 yards or so to the north.
However, one house fell victim to the new bridge. At the junction between the Slaugham Park drive and the Horsham Road nearest the Red Lion stood Slaugham Park Lodge which was occupied by Albert and Charlotte Dancer, and their daughter, Marjorie. In 1934 she married Robert Dench resulting in, arguably, the most famous tennis doubles players in Handcross known by everyone as "Bob and Marj".
Click on Large Version for the enlarged photograph.
View Large Version
Picture added on 24 September 2012 at 14:48
Comments: