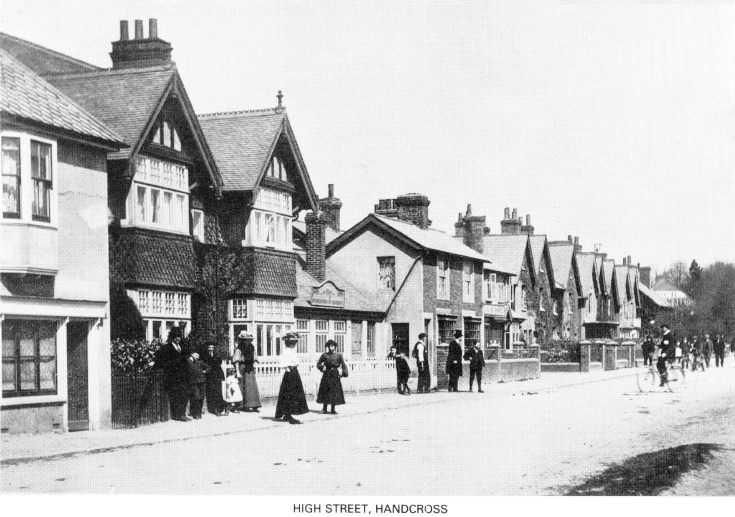 The Slaugham Archive
Archpool in Handcross High Street
With all eighteen people in this picture looking relaxed and very smart I wonder if it is a Sunday.
The house on the left with the two gables is Archpool which from about 1925 to 1955 was the home of Dr Greville Tait, whose surgery was accessed from the driveway between the house and the next building. In the two gables there is inscribed "MJ 1894", and I wonder if anyone can identify who "MJ" was.
The next building had various uses until it was demolished to make way for the access road to Windmill Platt and Smugglers End. During WWII the Robinson brothers operated an engineering firm there producing war-related products. After the war it was a smithy and I recall standing in the doorway watching horses being shod. The smell of burning hoof is impossible to forget. It was also used for engineering classes for those interested in pursuing that trade, and indeed later is was used as a factory by Legg Engineering.
The postcard was published by "The Old Sweet Shop and Tea Rooms, Handcross" but which one I know not.
Click on Open Document to view the particulars of the auction sale of Archpool House and the adjacent houses and shops by order of the Estate of the late John Warren, Snr in 1905. Someone has added the hand-written inscription "Secretan £1400" and I assume that the Secretan family of Slaugham Park purchased Lot 13 for that price. I wonder what today's valuation would be for the three houses, two shops and a smithy!
Open Document
Picture added on 01 October 2012 at 19:25
Comments: