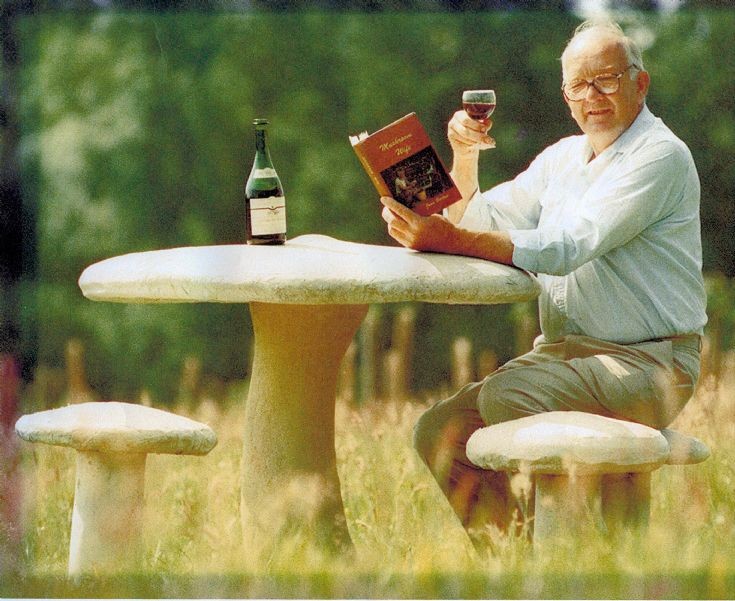 The Slaugham Archive
Slaugham Millennium seating
I once sat on one of a row of kerbside staddle stones while my wife was in a gift shop on the Devon coast. This alerted me to the thought of making a group of concrete mushrooms as seating to celebrate the new millennium in Church Covert field, just to the south of Slaugham churchyard, instead of an envisaged wooden seat.
Durable and attractive they would remind us to the fact that, fifty years earlier, demobbed airman Hugh Barton living with his wife in a war-time Nissen hut at Buchan Hill, Pease Pottage set up trials for mushroom growing in another Nissen hut in Geoff Barr's garden at Bosworths, Slaugham.
They both worked at Handcross Nurseries and had seen the lucrative profits that punnets of mushrooms were making when sent to London restaurants.
Staddle stones are mushroom-shaped stone supports once used to keep a wooden platform for corn stacks above ground, away from vermin. However these have always been known as Steddle stones in Sussex, and this is confirmed in a book of 1875 concisely entitled "Dictionary of the Sussex Dialect and Collection of Provincialisms in use in the County of Sussex" by William Parish.
The photograph is by kind permission of Brighton Argus Newspapers, and shows me drinking wine and reading Joan Barton's book, The Mushroom Wife.
Picture added on 16 November 2012 at 20:33
Comments: