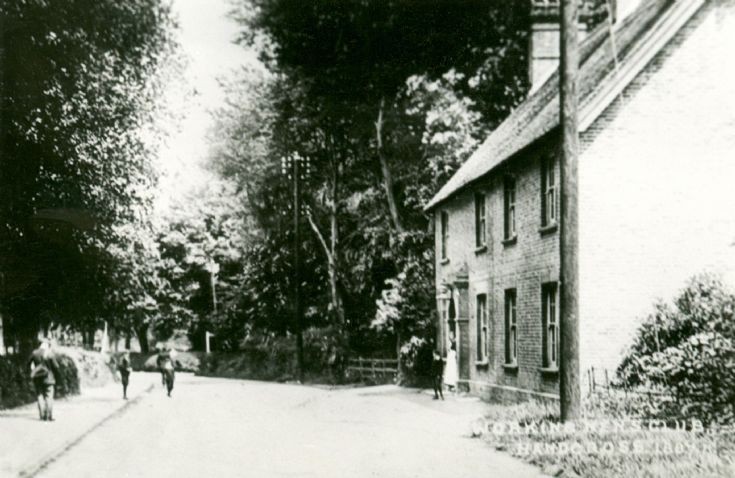 The Slaugham Archive
Working Men's Club in Handcross High Street
This depicts the site of the tollgate at the north end of the High Street but, when this picture was taken, the Working Men's Club has already been built and been operating for about 20 years.
In October 1876, Rev. John Haweis, rector of Slaugham from 1874 to 1886, proposed that two cottages be found to convert into a men's club. He wrote as follows "Although your club will not, I hope, be formed on teetotal principles, I assume that no alcoholic liquor will ever be brought in. You don't want to interfere with anyone's trade; you don't want to start another beer-house. The shops and public houses that supplied you before will supply you still. You seek comfort for the heart and food for the mind, and I pray God you will find both in this club. If your club is to take its place as a parochial institution, where the clergy will always be welcome, I hope the rector for the time being will be president ex officio."
Around this time an Act of Parliament was passed abolishing tolls, and for a short time in 1877 the building was used as an isolation hospital for smallpox. It then came into the possession of Mr Loder from High Beeches who built the clubhouse on the site. On 11th January 1878 the club opened its doors for the first time.
A lady with a white apron stands in the doorway of the club, and I assume it is she who provides the aforementioned comfort and food. There are two men in the picture; one on the pavement and one in the distance riding a bike, but neither seems to be heading for the club. The signpost pointing along Balcombe Lane can be seen in the distance.
Picture added on 20 November 2012 at 10:22