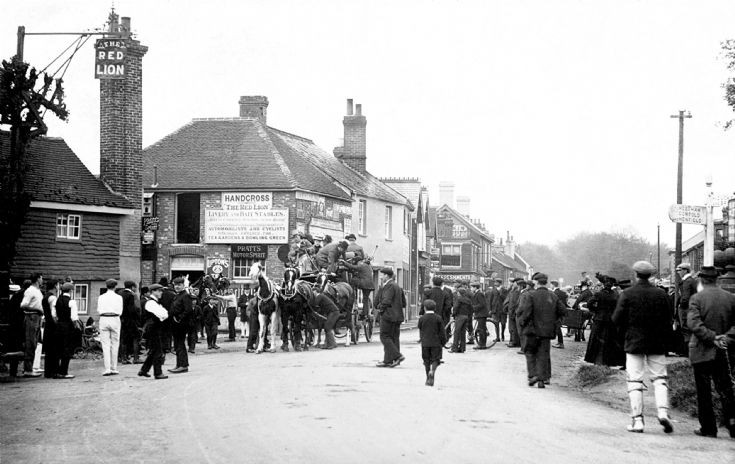 The Slaugham Archive
Stagecoach arriving at the Red Lion, Handcross
Mr Alfred Vanderbilt, an American millionaire, came to England in 1908 bringing with him some 80 of his horses in order to re-create the atmosphere of the old coaching days before the railways took away much of the trade in the 1840s. On 4th May 1908, he made a trial run of the journey from London to Brighton in "Meteor" with himself driving. Subsequent regular trips were made in the "Venture".
The first run was well promoted and crowds have gathered at the Red Lion to watch "Meteor" arrive. The change of horses can be seen in the Red Lion yard with the smartly dressed coachman looking on as two men unhitch the horses.
On the extreme right wearing the "wide-awake hat" is Mr George Heather who lived at Ashfold Lodge with his wife, Charlotte. Standing next to him is Charlie Songhurst, still wearing his cricket pads. It seems most likely that a cricket match is being played on the pitch on what is now Nymans car park, and play was suspended briefly to watch the stagecoach arrive.
Click on Large Version to view a close up of the horses being changed.
View Large Version
Picture added on 29 November 2012 at 16:54
Comments: