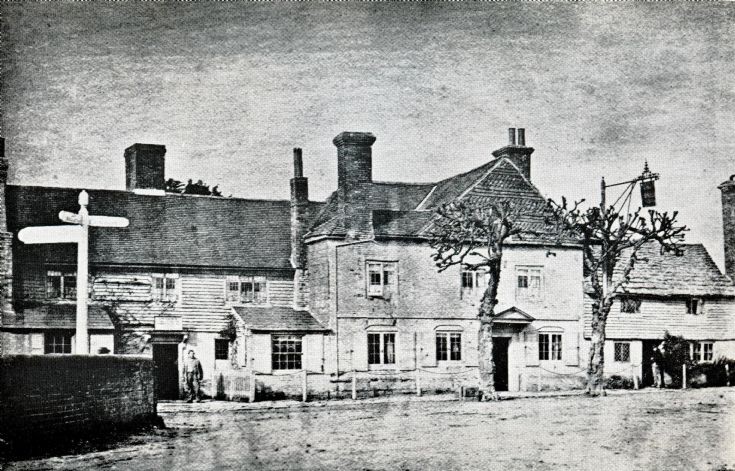 The Slaugham Archive
Landlord standing outside the Red Lion, Handcross
The landlord of the Red Lion during much of the 1860s and 1870s was George Roberts who was captured in this photograph of 1872 standing outside the inn. There is another man standing in the doorway of the ostler's cottage on the right, and it may be Henry Miller as he is said to be the ostler in the 1861 census. It is recorded that on the wall of the ostler's cottage overlooking the yard there was a bell for any coachman or traveller to summon assistance. All photographs of the Red Lion seem to have been taken so that this wall is not visible making verification difficult!
George Roberts died in November 1876, aged 54, and forty-five members of the Oddfellows followed his coffin to the grave.
His wife Eliza died in 1892 at the age of 69. Their daughter, also named Eliza but known as "Nance", was unmarried and died in Sept 1939 at the age of 79 whilst living in the appropriately-named Roberts House, formerly part of the Red Lion.
It is interesting to note that today's large pavement outside the shop on the left used to be surrounded by a brick wall.
Picture added on 19 December 2012 at 15:27