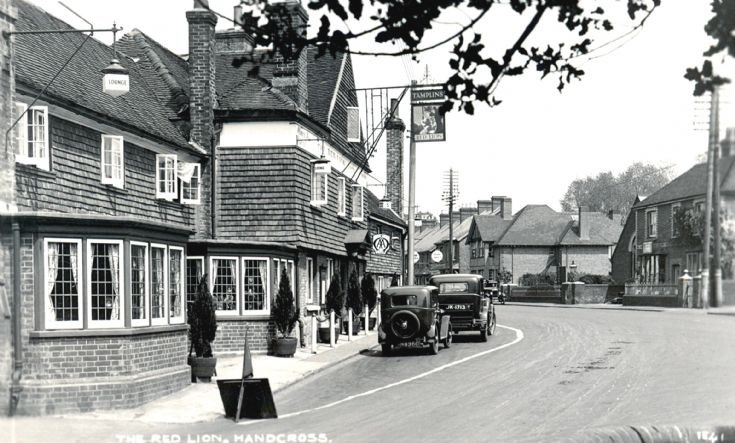 The Slaugham Archive
Parking outside the Red LIon, Handcross
The Red Lion has been recently painted with new sign writing and a smart new swinging sign depicting a lion on a shield with perhaps a stylised version of St George in the background. It will be noted that the final pollarded tree has gone.
The hotel has been accredited by the AA and a bold sign is displayed outside.
The two white circular signs in the background promote the sale of "Pratts Commercial" to fuel the ever-growing numbers of cars on the road.
I am intrigued by the sign held up by a length of wood with a red flag attached. It may be something to do with the freshly painted white line introduced to create parking spaces. I fear any parking in that position today would create both traffic problems and a modicum of bad language!
On the other side of the road is the newsagents and toy shop run by Mr Walter Shearlock. Just beyond the shop can be seen the front wall of the Methodist Chapel which was demolished in the 1960s.
Click on Large Version for a close up of the cars.
View Large Version
Picture added on 22 December 2012 at 20:17