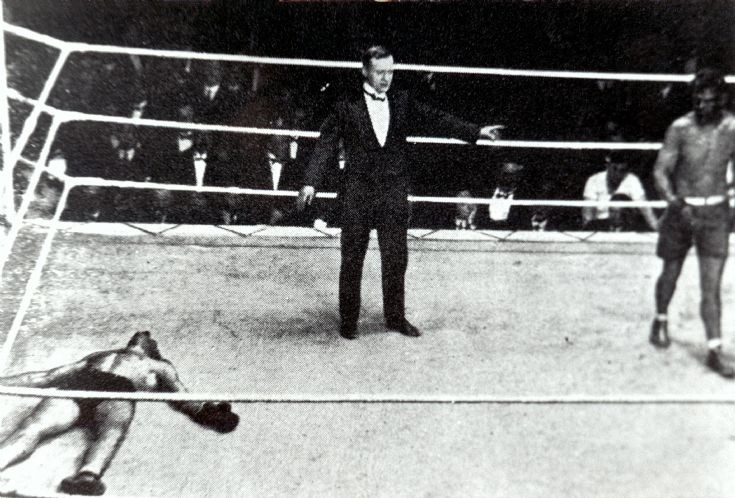 The Slaugham Archive
Bombardier Billy Wells at the Red Lion
"Bombardier" Billy Wells (1889 – 1967) was landlord of the Red Lion during the 1930s after an illustrious career in the boxing ring. He was the British heavyweight champion from 1911 to 1919, defending the title 14 times. In December 1918 he defended both the British and British Empire titles successfully against Joe Beckett. There was a rematch in February 1919 and on this occasion Beckett won both titles by a knockout in the fifth round.
Wells won his next five bouts and was given the opportunity to regain the heavyweight titles from Beckett at Olympia, Kensington on 10th May 1920. Wells lost by a knockout in the third round and the above photograph captures the moment dramatically.
Being well-built and debonair, Wells became the third man to strike the famous gong at the start of the J. Arthur Rank films.
As a young lad my father, Roger Ray, recalled being chased by Billy Wells over the tennis courts at the rear of the Red Lion, but otherwise he kept well out of his way.
Select Large Version to read more about Billy Wells and Joe Beckett as put together by my father, Roger Ray, on his ancient typewriter many years ago.
View Large Version
Open Document
Picture added on 23 December 2012 at 11:38
Comments: