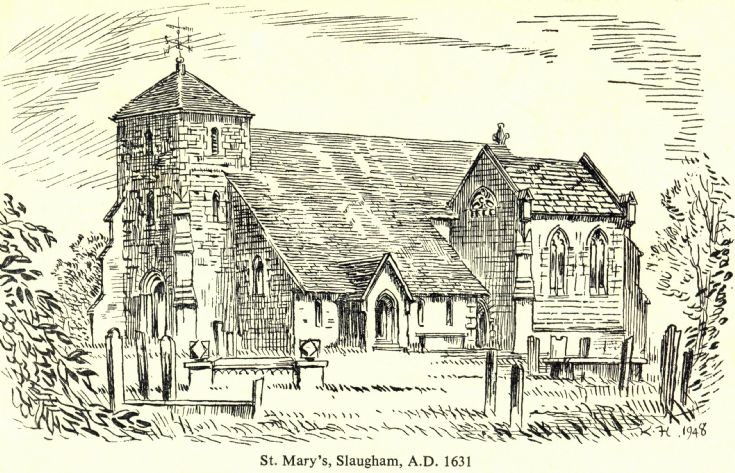 The Slaugham Archive
Line drawing of Slaugham church
Slaugham church was constructed soon after the Norman Conquest, but it is generally accepted there may have been an Anglo-Saxon church on the site earlier.
The original Norman church was a basic rectangular building of about one half of the size of the present-day church, comprising the area from the eastern end of the tower to the wall behind the altar. Therefore in this drawing it would not have included the tower, the extension covered by the lower half of the sloping roof, and the Covert Chapel on the right.
The tower was added in about 1290, and the Covert Chapel, an extension on the south east corner, was built in 1613.
To provide seating for an additional 200 worshippers the extension covered by the lower half of the sloping roof was added in 1827. In 1858 the extension was more properly incorporated into the main body of the church by filling in the gap between it and the Covert Chapel, and by raising the roof to a height somewhat similar to the original church and the Covert Chapel.
In 1879 the interior wall of the old vestry was removed to provide an organ chamber, a new vestry was built as an extension on the north wall, and a new porch was erected at the south entrance.
This configuration remained for more than 120 years until 2006 when an extension was built against the south wall to provide toilet facilities. This was against the wishes of many parishioners who would have preferred the toilets to be built within the existing church building.
The reverse side of the line drawing above can be viewed by selecting Large Version. This announces the church services to be held throughout the parish during Christmas 1948. The drawing is signed K.H. 1948, and Boxing Day, aka St Stephen's Day, was indeed on a Sunday in that year.
View Large Version
Picture added on 15 January 2013 at 15:55
Comments: