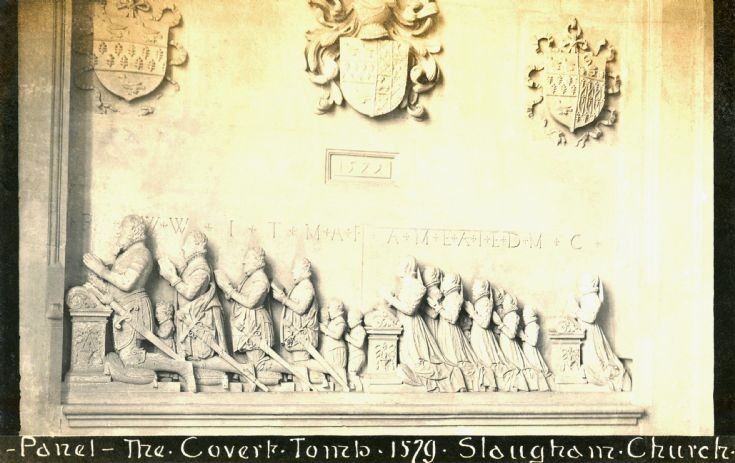 The Slaugham Archive
Tomb of Richard Covert, Jnr
The tomb of Richard Covert who died in 1579 was originally placed on the wall of the Covert Chapel. However the wall was removed in 1858 and the tomb was moved to the south wall of the church in front of a window as can be seen in
picture #598
. The stone monument measures 11 feet square and is equally impressive and moving. Any photograph cannot do it justice; a personal visit is highly recommended.
The line of seventeen kneeling figures is beautifully carved and the initial letter of each Christian name is carved above each figure. Richard had three wives, seven sons, and seven daughters.
Thus from the left we have Richard, his sons William (a little boy who died as an infant), Walter (who succeeded at the age of 36), John (MP for East Grinstead), Thomas, Mynors, Alexander, Francis, Ann (Richard's first wife), his daughters, Mary, Ellen, Ann, Joan, Elizabeth, Dulcibella, and Margery. Last is his second wife, Cicely.
His third wife, Mary, outlived Richard but is not represented on the monument, which was designed before his death. No doubt she was suitably miffed.
The Large Version shows a close up of the carved figures; three of the children are partially obscured by figures in the foreground.
View Large Version
Picture added on 23 January 2013 at 15:32