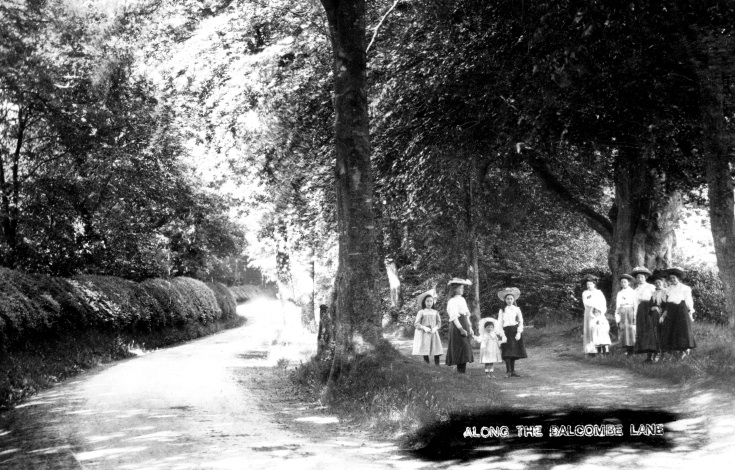 The Slaugham Archive
Group of ladies and girls in Balcombe Lane
A group of six ladies and four young girls are gathered in the Balcombe Lane under the enormous beech trees fairly close to the Granny Tree.
A handwritten note on the reverse of the postcard describes the tree as the Granny Tree which I believe is incorrect. The Granny tree was far more distinct to the other beech trees as demonstrated in
picture #1123
.
I have tried to identify the precise location where the photograph was taken but cannot find a section of Balcombe Lane where the road is so serpentine-like. However, I noticed a surveyor's pole sticking upright through the rhododendron hedge on the left, just past the tree in the foreground. There may be another pole just beyond. Does this indicate that moves were afoot to straighten the road?
A note on the reverse says that sisters, Mabel Tester (17) and Winifred Tester (5 or 6) were included in the picture. It seems most likely that they are standing 3rd and 4th from the left.
Mabel (1890-1984) went on to marry Henry Field in 1915 and they ran the butcher's shop opposite the Red Lion in Handcross.
Winifred (1900-1991) married Ronald Gander in 1926. In 1939 the records showed them living at Capons Farm, Cowfold where Ronald was described as both a dairy farmer and a Air Raid Warden!
The Large Version shows a close up of the group.
View Large Version
Picture added on 09 March 2013 at 12:15