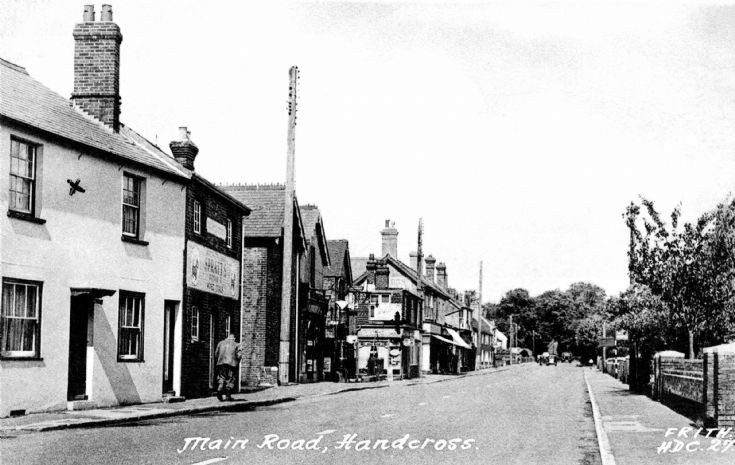 The Slaugham Archive
Roberts House in the High Street, Handcross
A near-deserted High Street in Handcross greets a lone man on his way to the shops.
I usually clean up the photographs before uploading to the website, but on this occasion I have not removed the crosses inserted on Roberts House and the sweet shop. I was intrigued by this card from someone named Jennifer who informed Kath that the marked house was "Gran's". From the archives I discovered that in 1956 the owners were family butcher Henry "Harry" Field and his wife Mabel who had owned the house for many years. They had a daughter, Betty Field, who married George Hood, and they had a daughter, Jennifer Hood. By coincidence, Jennie Pettit, as she is now known, lives a few yards away from Roberts House on the opposite side of the road.
She says that as a young schoolgirl she was on holiday in Cornwall with her parents and at their farmhouse accommodation she befriended the daughter of the farmer. On her return to Handcross Jennie sent the girl this postcard. It came to pass that after some 57 years the card turned up for sale in Wigan from where I acquired it to place on the website.
Click on Large Version for a view of the reverse of the postcard.
View Large Version
Picture added on 24 March 2013 at 16:46