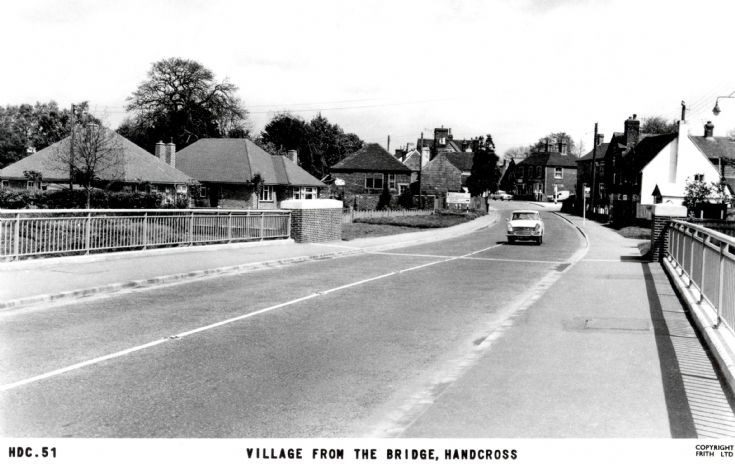 The Slaugham Archive
The bridge at Handcross
Today's view from the newly-completed bridge has changed a little since this picture was taken. From the left, the butchers shop has been closed and converted to a house and an additional house built in its garden, the tall gable-roofed Methodist church is gone, Walter Shearlock's toy and fancy goods shop has closed, the finger signpost has gone, and so too has the bus stop outside Hillbury Cottage. The substantial white-topped brick pillars where the railings end have gone.
Just to the right of the photograph, above the southbound carriageway, there used to be a house, Slaugham Park Lodge, which was demolished between the wars as part of the by-pass project. Indeed the Slaugham Park drive emerged just to the south of the lodge, above the northbound carriageway. The last inhabitants of the house were Albert and Charlotte Dancer, whose daughter, Marjorie, went on to marry Bob Dench and form the well-known tennis partnership.
The car 6957 PX approaching the bridge is, I believe, a A55 Mk II Austin Cambridge 1959-61. If that is not correct, no doubt I shall be corrected.
Click on Large Version for a close-up.
View Large Version
Picture added on 14 April 2013 at 22:03