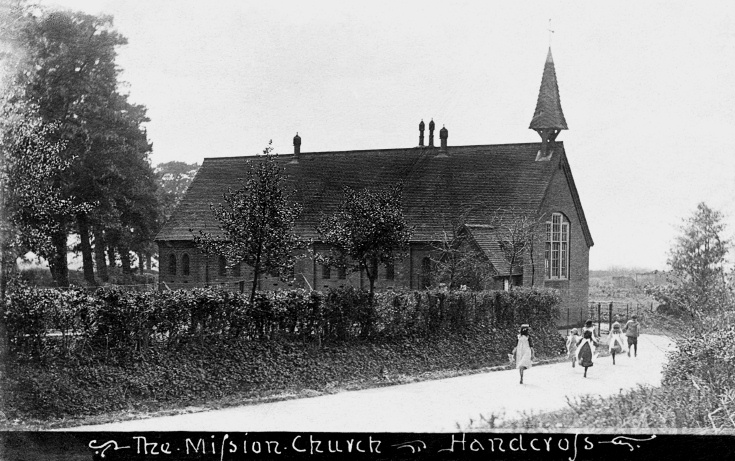 The Slaugham Archive
All Saints Church in Handcross
Having been built in about 1885, All Saints Church in Handcross can hardly be described as ancient, but what a lot has changed all around it over its short life. For the first 30 years it was variously known as the Mission Room, Mission Church, or Mission Hall. Effectively it was the village hall and was used for band practices, whist drives, and other social events and meetings. The Parish Hall was built in 1914 and the Mission Room lost its mission in life until Mrs Bigg from the Hyde turned it into a proper church in memory of her husband. Appropriately, it was consecrated on All Saints Day 1915.
Changes to the building since the photograph was taken include the removal of the four ventilating chimneys, and the replacement of the large window on the roadside with a smaller one to provide space for the extension built at that end.
To the left, the avenue of trees line the old Slaugham Park Drive which joined the Horsham Road where the bridge is now situated.
The present road is now several feet higher due to the bridge construction, and access to the church is now made by the use of a flight of steps.
In 1906, traffic was light and no pavements were required as the children demonstrate. It seems that five one-legged girls are chasing a boy towards the church! I wonder if the bell was ringing out from the oversized bell-turret.
My 12-year-old grandmother, May Backshall (later Longhurst), often reminded us that she was one of the girls in the picture.
Click on Large Version for a close up of the children.
View Large Version
Picture added on 19 April 2013 at 17:18
Comments: