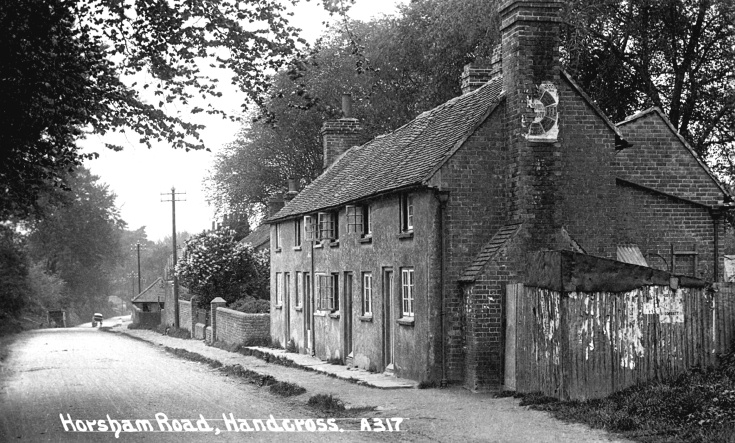 The Slaugham Archive
The Rabbit Hutches, Horsham Road
Just south of the present-day bridge stands this row of four tiny cottages, each only one room wide, and known by all as the "Rabbit Hutches" due to the large number of children produced therein. The cottages are barely recognisable today as they have been converted into the attractive Rose Cottage and Wheel Cottage.
Does the odd-looking structure in the foreground house the bucket lavatory, the "privy"?
At that time the only buildings on the eastern side of Horsham Road were the Mission Room (later to be consecrated as All Saints Church) and the tollgate building, which can just be spotted in the far distance next to the Coos Lane junction.
High on the chimneystack is a political poster for the 1910 general election, which resulted in a hung parliament. Asquith's Liberal Party won 274 seats with the Conservatives on 272. Interestingly, the Irish Parliamentary Party, with Ireland being still joined to the UK, won 71 seats. The fledgling Labour Party, formed only ten years earlier, won 40 seats.
The poster advocates We Want -- More Old Age Pensions, More Smallholdings, More Social Reform, but Less House of Lords. This final plea suggests that the poster was issued by the Labour Party as the activities of the House of Lords figured in much of their manifesto at that time. Also that party had the longest ladders!
Click on Large Version for a close up of the poster.
View Large Version
Picture added on 23 April 2013 at 09:40