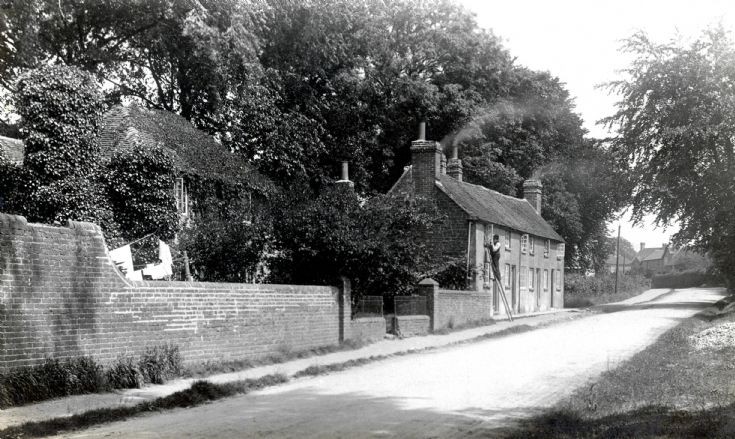 The Slaugham Archive
Rabbit Hutches in the Horsham Road
The "Rabbit Hutches", now known as Rose Cottage and Wheel Cottage, are in the middle distance with little traffic to disturb the inhabitants.
On the left one can make out Laurel Cottage peeping out from a veritable epidemic of ivy or other climbing plant. Under the tall column of ivy on the extreme left is a chimneystack, as can be seen in
picture #702
.
In the distance on the right can just be seen Hillbury Cottage with its gable end. There is no hump in the road which appeared when the bridge was built.
The "Hutch" nearest the camera was the home of my grandfather, Jim Longhurst, who lived there with his parents, four sisters and six brothers; a grand total of 13 persons. The children were born between the years of 1874 and 1895, so perhaps there were not all living there at the same time!
I wonder if the gentleman with a grey beard and bowler hat is a tradesman, a burglar, or my great-grandfather. I hope it is the latter.
Picture added on 23 April 2013 at 20:20
Comments: