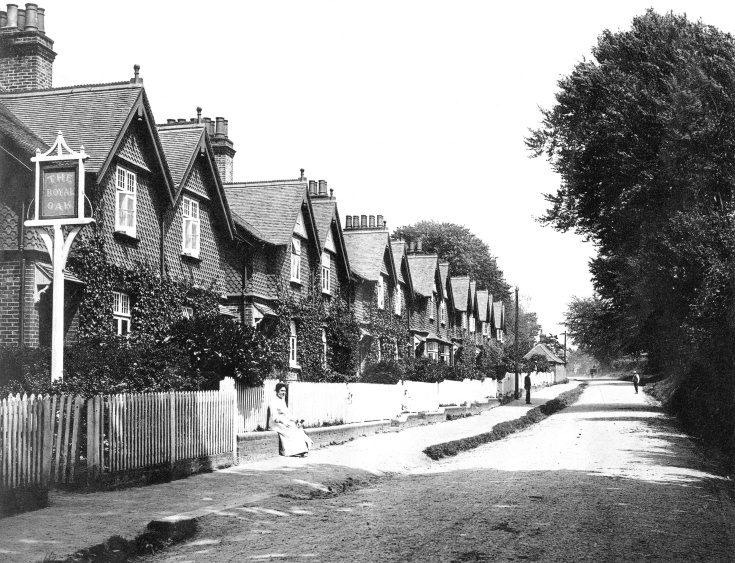 The Slaugham Archive
Auction of Warren Cottages, Handcross
The auction of Handcross Park and various other properties in Handcross took place in London on 25th July, 1905 by order of the Estate of John Warren, Snr. Included were the 14 residences of Warren Cottages in 7 lots, each comprising two cottages. Click on Open Document to view the section of the catalogue dealing with Nos. 1 and 2 Warren Cottages. The other six lots were described identically except that the land area varied and, of course, each had different tenants.
The tenants, each paying 5 shillings per week or £13 0s 0d per annum, were 1. F. Leggatt, 2. E. Gasson, 3. F. Rice, 4. A. Burtenshaw, 5. G. Clevett, 6. Mrs Weller, 7. J. Sayers, 8. E. Stringer, 9. G. Wheatland, 10. G. Boniface, 11. C. Boniface, 12. F. Pickett, 13. Mrs Stevens, 14. G. Flint.
The area of 1 and 2 was 17 perches, 3 and 4 21 perches, and each of the other lots were 20 perches. A perch is 30¼ square yards.
As noted on the catalogue, the seven lots were withdrawn from the auction and the houses were retained by the Warren family.
The photograph from the auction catalogue shows a view of the lots, including, probably, Mrs Leggatt and her Jack Russell terrier, sitting outside No. 1.
A pony and trap are disappearing up the road towards the village centre, and a couple of men are probably wondering what the photographer is up to.
The Royal Oak still has its front garden and path leading up to the front door, but, in common with many other pubs, the frontage would soon be converted into a car park.
The Large Version shows a close up of the photograph.
View Large Version
Open Document
Picture added on 29 April 2013 at 12:45
Comments: