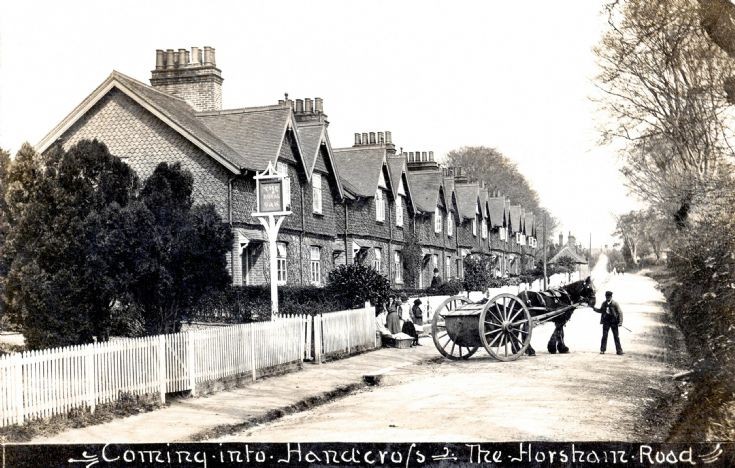 The Slaugham Archive
Sewage cart outside Warren Cottages, Handcross
Surely this must be the only postcard ever to feature such a vehicle! The cart used to tour the streets collecting raw sewage from outside toilets or "privies". It was a two-man occupation; one to fetch the bucket and pour the contents into the cart, and one to look after the horse and make sure it did not bolt! On a hill the cart would be reversed into the kerb so that the horse could have a rest.
When full, the cart was taken to Coos Lane and after a few yards there was a track on the left. The cart would pass by the old brick-built mortuary on the left to where the slurry was disposed of, hopefully not where St Martin Close is now located. That would be difficult to explain to the French!
I feel sorry for the horse, as it must have been hard work as indicated by the large cloud of breath emanating from its mouth.
In due course, the cart was replaced by a sewage lorry, and I recall that George Constable and Fred Kemp were the operators. Several wide-rimmed buckets used to swing noisily on hooks at the back of the lorry. The contents from the privies were emptied into these buckets in the garden so that only one trip was required for each house.
To everyone's great relief, main drainage came to the villages soon after WWII, but Slaugham was the last to be connected. The local council operating the sewage lorries was Cuckfield Rural District Council who wanted to cancel the service before the village had been connected to the mains. At a CRDC meeting, a district councillor suggested that the villagers of Slaugham could take their own buckets into the nearby woods and fields and dig holes to dispose of the waste. Local parish councillor and Slaugham resident, Jim Longhurst, took up the cause and led a protest which the press promptly named "The Battle of the Buckets". The council had to capitulate and the bucket-emptying service was allowed to continue until Slaugham was connected to the main drainage.
The Large Version shows two young girls holding their noses. The laundry basket and jacket would indicate that one of the nearby cottages offered a laundry service, which was a fairly common occurrence at that time.
View Large Version
Picture added on 15 May 2013 at 11:08