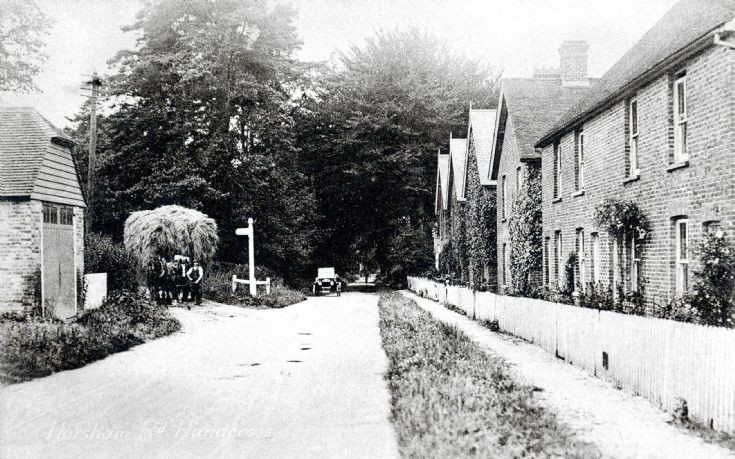 The Slaugham Archive
Farm wagon in Horsham Road, Handcross
A well-laden farm wagon drawn by two horses is emerging from Coos Lane on to the Horsham Road in Handcross and clearly the farm worker has been asked to pause for a photograph.
The building on the left was removed many years ago but was an important part of the social history of the village until 1st November 1877. The 1842 Tithe Map describes it as "Truckers Hatch Toll House and Garden" and occupied by a John Davey and owned by the "Trustees of Turnpike Road".
Coupled with the toll house at the northern end of the village it explains why the Hyde had two exits to the public roads; one about 100 yards beyond the car, and one north of the village. Of course if it was in operation today, an easy way to escape paying the toll would be to follow a route via Covert Mead, West Park, Coos Lane, and squeeze past the wagon on to the Horsham Road!
There are no prizes for guessing the identity of the proud owner of the parked car.
Click on Large Version for a close up of the farm wagon. Why does it remind me of Boris Johnson?
View Large Version
Picture added on 05 June 2013 at 09:36
Comments: