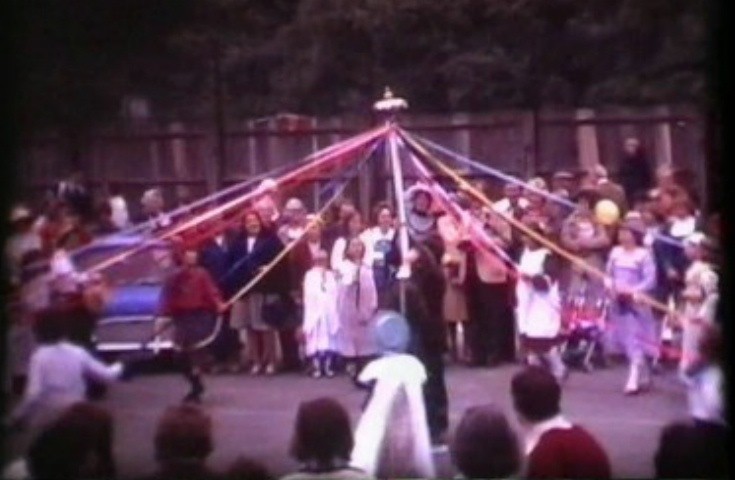 The Slaugham Archive
Handcross School centenary 1978
Handcross Primary School celebrated its centenary in 1978. Teachers, pupils and even some of the parents dressed in Victorian clothes and walked from the school through the High Street for a service at All Saints church lead by the vicar, also dressed in Victorian clothing.
Later, back at the school, there were speeches, the unveiling of the restored school bell, Maypole dancing, and various sideshows to entertain everyone including dozens of former pupils of all ages.
Spotted on the video are
0.14 Rev. David Towne, 0.24 Headmistress Miss R. J. Stenning, 1.27 Headmaster 1969-1973 Barry Gooders, 1.48 Bill Scott (dark blazer), 1.55 Joy Greenfield (between parents), 2.17 Winnie Greenfield (ringing bell), 2.23 Deputy Head - Miss Margaret Morgan, 2.37 Joe Ray, 3.22 Derick Gordon (brown suit), 3.36 Darren Ray (sweep's boy) 3.45 Barry Ray, Laurence Ray carrying son, Harry, Jane Ray, Peggy Ray, Carol Ray, 4.11 Samantha Gordon (white bonnet, on left), 4.14 Jack Greenfield (top hat), 4.20 Zoe Turner (lollipop), 4.37 Alison Ray, Josie Ray.
Filmed by Roger Ray on his clockwork cine camera Super 8mm.
The first piece of music was called "Come Lasses and Lads, get leave of your Dads" and was the traditional bouncy tune played during Maypole dancing. The second piece was "Sea Songs" by Ralph Vaughan Williams, and for those of a certain age the melody at 2.30 will best be remembered as the theme tune for the BBC series of Billy Bunter. Oh lor! Oh crikey!
Click on link below to view the video.
View Video
Picture added on 25 June 2013 at 09:12
Comments: