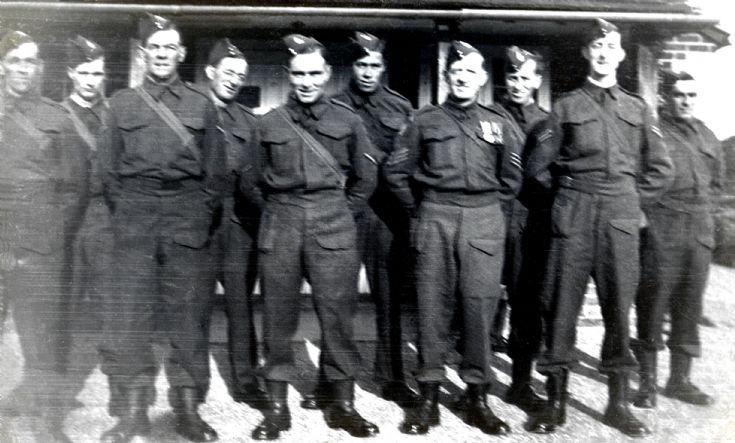 The Slaugham Archive
Warninglid Home Guard
I believe this to be the Warninglid Home Guard photographed after WWII outside the Seaforth Hall in the village. It seems to have been quite common that the Home Guard continued for a while after the war as some sort of ex-servicemen's club.
I can only identify my uncle, Joe Ray, pictured in the middle of the front row. He served in the Tank Brigade and saw active service in France, Belgium, and Northern Germany.
In 2012 I was contacted by a Heinz Jacobsen who has lived all his life in Schleswig-Holstein, the most northerly state in Germany, bordering Denmark. In 1945, at the age of ten, he and his mates used to fraternise with the occupying British Tank Brigade who gave them some titbits from the canteen, as food was very scarce for the local population at that time. It seems that one of the soldiers recorded the names and home addresses of all his comrades in a book, but when the brigade headed for Blighty at the end of 1945 the book was accidentally left behind in their barracks. It was found by Heinz who has kept it safe for the last 66 years. Now well into his retirement, he has decided to place it in the local museum, but, before doing so, thought he would try and contact the families of those British servicemen whose company he greatly enjoyed all those years ago. One of those was "Joseph Ray, Freechase, Warninglid" where he lived with his family as his father, my grandfather, was chauffeur to the Nix family, whose residence it was.
Joe went on to marry a local girl, Peggy Munn, in 1947 and they raised their family at Southdown Villa, Brighton Road, Handcross.
Please can anyone identify others in the photograph?
View Large Version
Picture added on 27 June 2013 at 17:21
This picture is in the following groups
Military
Comments: