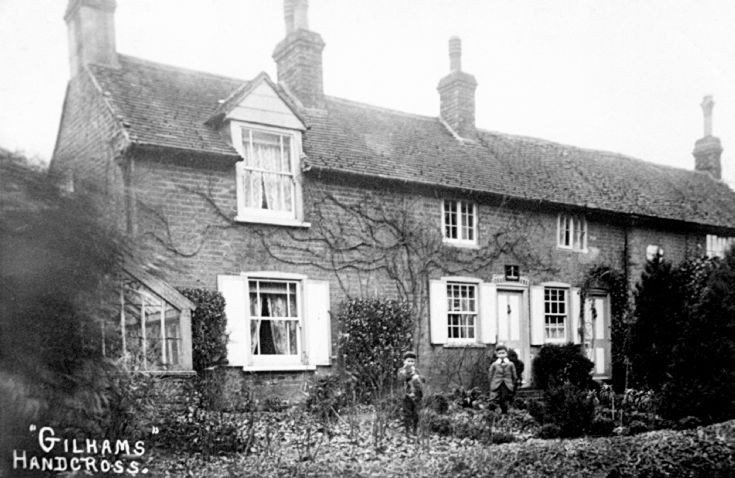 The Slaugham Archive
Gilhams and Marions, Coos Lane
The postcard describes the residence as Gilhams, but these pair of cottages have also been known as Gillams, George's Cottage (1871), Marions, and Marians. Today they are called Marions on the left, and Gilhams on the right with the name plaque on the front wall.
In 1891 veterinary surgeon William and Hannah Walder and their son lived in "Gillams". On that same census night in the adjacent residence on the register James and Mary Akehurst lived at "Gillams". It seems that both cottages were known as Gillams in those early years.
In 1871, William's father, Thomas, was also a veterinary surgeon and lived in George's Cottage, next to Gillams Cottage, with his wife Maria.
In the 1920s and 1930s Gilhams was occupied by Harvey and Miriam Stripp and their sons Harvey and Ronald and daughter Eileen. It seems most likely that the photograph shows the two sons, both of their births being registered in 1914. The younger boy on the left, carrying the family cat, seems certain to be Ronald.
Rev. W. A. Dengate's "Slaugham" tells us the following story. "At Gillhams a man named White, a higgler (a pedlar) by trade, narrowly escaped being caught by Police Sergeant Akehurst for having an illicit still, and he said the molasses were for fattening his chickens! However, White afterwards kept the Fountain Inn, and then moved to the Hen and Chickens at Southwater"
Click on Large Version for a close up of the boys and cat.
View Large Version
Picture added on 15 July 2013 at 17:52