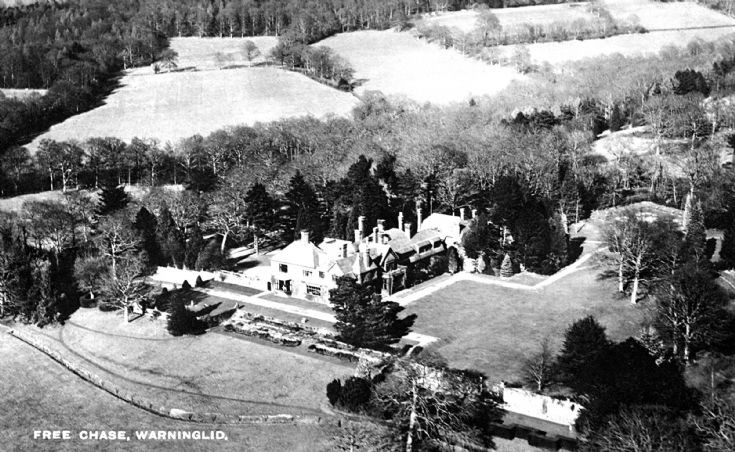 The Slaugham Archive
Free Chase, Warninglid aerial view
Charles Nix, who had owned the mansion and estate of Tilgate, Crawley, bought Free Chase in 1938. Mr Nix was a great gardener and spent much of his time bringing the garden back to its former glory. He was Senior Vice-President of the Royal Horticultural Society and in his early years was closely connected with Sir Edmond Loder in the development of Leonardslee, and with Col. Stephenson Clark at Borde Hill.
Mr Nix died in 1956 and the estate was carried on by his son, Lt. Col. Christopher Nix, who continued to improve the gardens with his head gardener, Ron Lewry.
The estate was sold to Sir Gawaine Baillie in 1970 and within a short period the house was demolished and replaced by one of a modern design built on the same spot.
Click on Large Version for a view of the reverse of the postcard which shows that Charles Nix used the card in lieu of a Christmas card. No date is shown, but he moved to Free Chase in 1938 some years after the card was first published.
The royal patronage was conferred on Tuck's by King George V and Queen Mary, and their eldest son, the Prince of Wales, later to be King Edward VIII albeit only briefly until his abdication. Edward ceased to be Prince of Wales on 20th January 1936 when his father died and he acceded to the throne.
Interestingly, the postcard was published by Raphael Tuck and Son. Following the death of Sir George Allan in 1917 (see
picture #807
), a family with the name of Tuck lived in Free Chase for a number of years although it remained in the ownership of Charles Allen, Sir George's son. Could they be the same family?
View Large Version
Picture added on 30 July 2013 at 12:12
Comments: