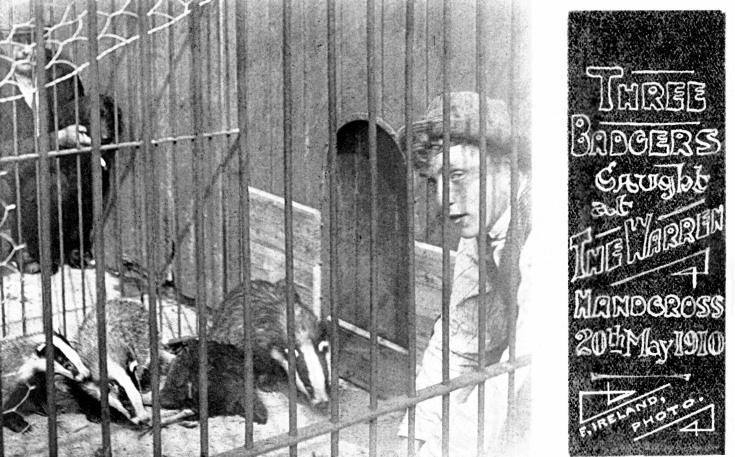 The Slaugham Archive
Captured badgers in Handcross
Understandably a picture of captured badgers is not what you would expect on a postcard, but three such animals are shown here, held in a caged dog pen at The Warren, about a mile out of Handcross village on the Horsham Road.
The original picture is extremely faded, but as I enhanced it, I became aware of a shadowy figure of a man in the background on his haunches holding a dog. Furthermore, in the cage along with the youth and the badgers, there appears to be a dead chicken. This is puzzling as badgers eat earthworms, grubs, insects, frogs and similar small snacks; not chickens.
If these badgers were hunted because they were deemed to be pests I assume they would have been despatched immediately on capture. Could they have been captured for badger-baiting, where the animals are baited with dogs which usually ends with the death of the badger? This activity was made illegal in 1835, but, even to this day, has operated in a clandestine manner throughout the country.
But if this were the case, would they have permitted the picture to be made into a postcard?
View Large Version
Picture added on 11 August 2013 at 18:26
Comments: