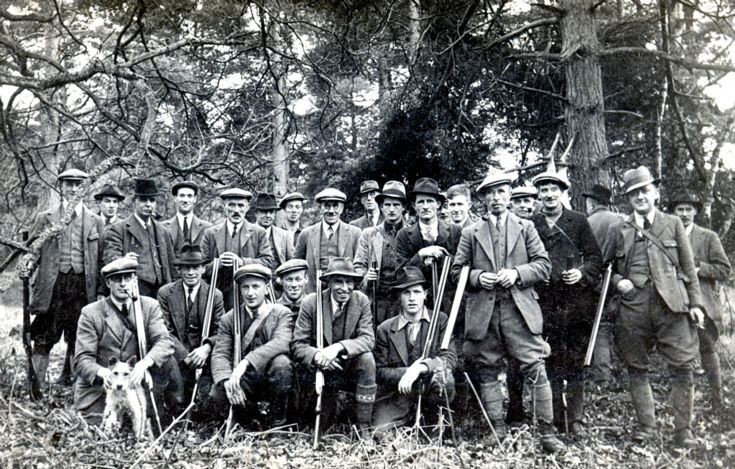 The Slaugham Archive
A shooting party
A shooting party stops for a photograph, but there is no information as to the names of the participants, the event, or the location.
It is interesting to note that all the shotguns on view are of the "side by side" type which have now been largely replaced by the "over and under" variety whereby one barrel is above the other. It seems it is a matter of personal preference.
In the front row, third from the left is Bob Ellis, gamekeeper for Nymans and who lived at 5, Nymans Cottages, Handcross. Also in the front row, fifth from the left is Sammy Gates from Pease Pottage and gamekeeper at the Tilgate Estate. Standing, fifth from the right is Sammy's brother, Alfred "Froggy" Gates, also from Pease Pottage.
Standing, fifth from the left is Henry Pateman, another gamekeeper.
Please can anyone identify any of the others?
Originally, I had assumed that this was a pheasant shoot until I noticed a couple of hind legs hanging from the tree on the right. Obviously, they were culling deer.
I am not sure if the man in front of the tree is inspecting the kill, or succumbing to a call of nature!
Click on Large Version for a close up.
View Large Version
Picture added on 18 August 2013 at 21:00
This picture is in the following groups
People
Comments: